A glossary of all the things you need to know about COVID-19 in 2021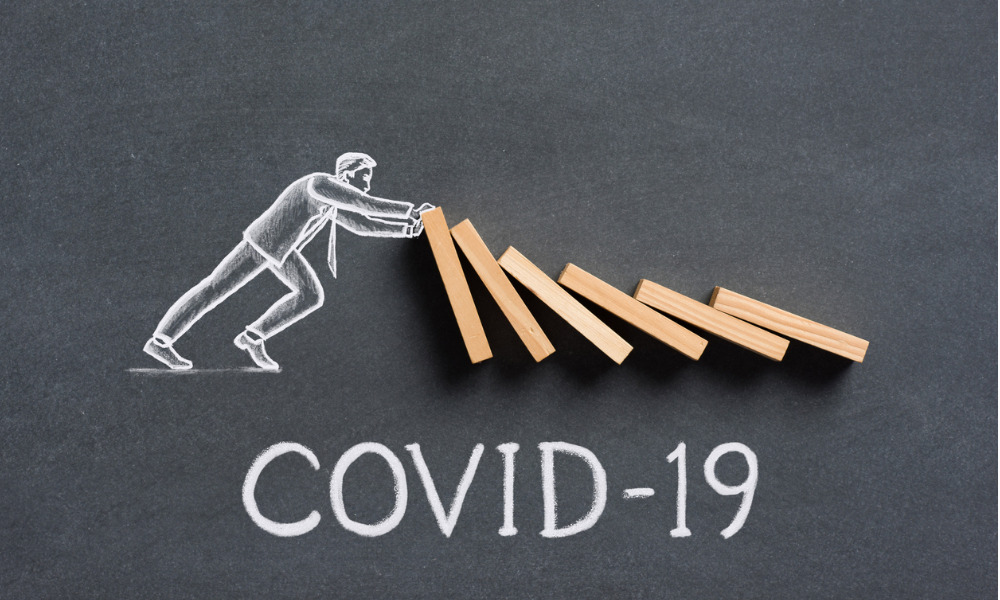 This time last year, COVID-19 was slowly creeping onto our radar. Then, in March, things accelerated and for almost 12 months now we've been living with the oft invisible threat of COVID. Aside from changing pretty much every aspect of our lives, we've also expanded our vocabulary. And it can be a little tough to keep track of all the new words and concepts to know, so COS has collated a little ABC guide to all the essential things you need to know about COVID-19 in 2021.
Atlantic Bubble. An early success story in Canada, the bubble eventually burst after an increase in cases in a couple of the Atlantic provinces. The bubble has been indefinitely suspended since Nov. 26, 2020. Some reports indicate that a new bubble could resume in the spring, depending on how the virus progresses.
Curfew. At the time of writing, Quebec is thus far the only province in Canada to have instituted a curfew. Quebec currently has an overnight curfew from 8pm to 5am in the Montreal metropolitan area and the Quebec City region – where 90 per cent of Quebec's population lives. Though some businesses have been allowed to reopen in Quebec in the last few weeks, curfew remains in place.
Double-masking. At the start of February, the U.S. Centres for Disease Control (CDC) recommended double masking. They specifically recommend wearing a cloth mask on top of a surgical mask, to help improve the fit of the surgical mask. However! Don't double N95s, and don't double medical/surgical masks, this would actually hinder their effectiveness.
Essential workers. They have always been essential, but it took a pandemic for the world to finally recognize the hard work that a number of professions do – hard work that keeps countries running and economies afloat. Be it grocery workers, transit staff, nurses, doctors, maintenance staff, teachers, etc. These are all essential workers, and we should not forget it once the pandemic is over.
Face masks. If 2020 were an object, it would be a face mask. We have already written at length on the topic so I'll spare you – but if you're in the market for a good face mask, here are 10 Canadian brands making face masks to support.
Gloves. The other key bit of PPE in the fight against COVID just has to be gloves. Mainly disposable ones, sadly. Though the general public has largely invested in cloth or reusable masks, the same can't be said for gloves. And with PPE waste becoming a bigger and bigger concern for the environment, reusable gloves may be the way forward.
Hotel quarantine. Starting Monday this week, international travellers arriving at the four major Canadian airports in Toronto, Calgary, Vancouver and Montreal will have to self-isolate at their own cost after taking a COVID-19 test upon arrival. The quarantine period is expected to last around three days, and the hotel stay could cost up to $2,000 – though recent reports have indicated that the cost may be lower.
Innovation. COVID-19 has been difficult for individuals and businesses alike. Many small businesses are shuttering their doors, and unemployment rates are high – not just in Canada but around the world. Nevertheless, some companies have managed to make the most of the pandemic. Many tech companies have been innovating and coming up with solutions to help in the fight against COVID-19. Mobile apps, space trackers, thermal testing, etc., are especially important in the OHS sphere.
John Hopkins University. The university's coronavirus resource centre is a fantastic resource, you can track global COVID-19 case numbers and rates through its easy-to-use dashboard. Information is key in the fight against COVID-19.
KN95 respirators. Less popular than the N95 respirator, the KN95 has faced a wave of criticism for its unreliability. Indeed, many of these masks – notably ones manufactured in China – do not meet minimum filtration standards required by many countries, including Canada and the U.S. More information about Canada's response to KN95 respirators can be found here.
Long-term care (LTC). LTC in Ontario and Quebec was already in crisis, but the pandemic has exacerbated the problem. LTC homes in both provinces witnessed some of the deadliest COVID-19 outbreaks in the country – so bad, in fact, that the army had to be brought in. Provincial governments have announced a re-haul of LTC, so hopefully things will be changing.
Mental health. Here at COS, we have written at length about how the nation is struggling with mental health issues. Fears of an "echo pandemic" are gaining traction as more and more Canadians are suffering due to financial concerns, health anxiety and fears of friends' and family wellbeing.
New mutations. The virus is mutating, with these new variants being more contagious (though whether they are more deadly remains a question). The British and the South African variant are among the most prominent. So far, vaccinations have proven to be effective against these new mutations.
Occupational health and safety (OHS). Once viewed as niche, workplace safety has been one of the top topics as employers scramble to keep employees safe. Whether working on-site or at home, worker health and safety will continue to be a mainstream concern for businesses and organizations around the world.
Pandemic pay. To recognize the grueling work being done by essential workers, a number of businesses have instituted "pandemic pay". Pandemic pay was also put into place in certain provinces like Ontario, B.C. and Alberta. In the U.S., supermarket giant Target handed out USD $200 million in January to its workers as a 'thank you' for all the hard work they did in 2020.
Quarantine. At this point, I think we've lived through enough quarantines and lock-downs to last us a lifetime. Though harsh, they are proven to be one of the most effective measures in the fight against COVID-19.
Respirators. This bit of PPE, in particular the N95, was a nightmare to get ahold of during the early days of the pandemic. Largely reserved for healthcare workers and those on the frontlines, respirators are still widely sought-after and, sadly, are a favourite among scammers and fraudsters.
Supply chain. Supply chain resiliency has been a huge concern for businesses big and small. With travel restrictions and outbreaks affected a number of facilities, more and more companies have been investing in a business continuity plan.
Travel restrictions. The aforementioned hotel quarantine system is just another new piece to the current travel restrictions in place in Canada. Non-essential travel is not recommended between provinces, and to and from Canada. Restrictions remain in place at the land border between the U.S. and Canada. All travellers coming into Canada, whether that be by air or by land, have to show a negative COVID-19 test upon entering the country, and also have to take another test before quarantining for the mandated 14-day period.
United Kingdom. The UK has been a vaccine success story (thus far). As of Feb. 17, the British have delivered over 16 million vaccines. Israel and the United Arab Emirates (UAE) are also enjoying successful vaccination campaigns.
Vaccines. What the face mask was to 2020, vaccines are to 2021. The new key actor in the fight against COVID-19. There are a number of vaccines on the market, which can be confusing, but the big three so far are the Pfizer vaccine, the Moderna vaccine and the AstraZeneca/Oxford vaccine. The vaccination campaign is still in its early days in Canada, though the federal government has indicated that the general population may have access to the vaccine by this fall.
World Health Organization (WHO). Headed by Tedros Adhanom and based in Geneva, Switzerland, the WHO has been leading the global pandemic response for months. There are a number of incredibly useful docs available on its website (here).
(COVID)X. Now this may not concern Canadians directly, but it's a fine initiative (and please cut me some slack – suggestions for X entries were scarce!). Co-funded by the European Commission, the COVID-X program aims to bridge the gap between tech companies and healthcare providers to find solutions to combat COVID-19. EU-based tech companies can apply for funding here.
YYZ – Toronto Pearson Airport. The pandemic has been a rough time for airports and airlines, to say the least. They have had to adapt to constant new guidelines and measures. Still, they have risen to the challenge. This week, Toronto Pearson Airport announced that six PPE vending machines would be available throughout the airport, the machines are cashless and as well as face masks they all dispense hand sanitizer and wipes.