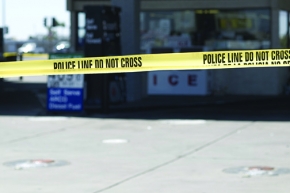 In late December, a clerk working the early morning shift in an Edmonton convenience store was confronted by masked robbers. He managed to press a panic button, alerting police. But before officers arrived, was been shot in the stomach. He died later in hospital.
Only 15 minutes after that alert came in, a 911 call came in from another Mac's convenience store. There, police found a clerk dead in a storage room.
Both men had been working alone and co-operated with the robbers. In the two cases, the robbers made off with small amounts of cash. Since then, two men and one boy have been charged with first-degree murder.
"This was a barbaric and gratuitous act of violence upon two innocent persons resulting in a senseless loss of life," Edmonton police Chief Rod Knecht said at a news conference.
When we think about lone workers, we often think first about industries such as logging or oil and gas, where workers handle heavy machinery and are often in remote areas. But many people who work in what are generally viewed as low-risk occupations also work alone. Being isolated, they are often the target of robberies, violence and harassment. If they suffer injury or illness, they lack immediate help. The risk is greatly increased for those workers who handle valuables, such as cash, and who work outside regular business hours.
In addition to retail employees, lone workers in lower-risk industries include home health-care workers, real estate agents, security guards, gas station attendants, workers in food outlets and bars, warehouse workers, night shift employees and bus, truck and cab drivers.
Not all Canadian jurisdictions have specific working alone regulations, although — with the exception of Yukon — those that do not have legislation have guidelines, says Les Alm, CEO and president of Assert Safety in Allan, Sask. Where no specific legislation exists, employers must regard their responsibility under the general duty clause to protect the health and safety of employees who work alone.
"It's really varied across our country. In some places, it's heavily regulated and in others, it's not regulated at all," he says.
The definition of "working alone" in the various laws and guidelines are fairly similar, Alm says. A person is "working alone" if help is not readily available to him in the event of an emergency, injury or illness. Generally, lone workers are those who go for a period of time with no direct supervision or contact with co-workers.
Where there is specific work alone legislation (British Columbia, Alberta, Saskatchewan, Manitoba and New Brunswick), employers are at least required to:
• conduct a risk assessment
• develop safe work procedures and train workers in the procedures
• establish an effective communication system (such as phone, radio or personal alarm)
• establish a system of regular contact with the worker.
One of the strongest set of regulations is in B.C. These set out requirements for the check-in procedures, such as the inclusion of set time intervals and emergency provisions. B.C. law also has regulations specific to late night retail premises, which include convenience stores and gas stations, requiring employers to schedule two or more workers for a late night shift or ensure the worker is physically separated from the public by a locked door or barrier. In 2012, the law was amended giving employers a third alternative of developing a violence protection program.
Reducing risks
In addition to outlining the hazards a worker may be exposed to and identifying ways to mitigate those hazards, the risk assessment should cover such questions as how long will the person be working alone and does the work involve high-risk activities, including hazardous materials or equipment, confined spaces, electricity, night work and potential for violence.
There are many ways to reduce the risks of working alone. Hazards may be eliminated by replacing the lone worker with technologies, such as using video surveillance to monitor an area instead of a security guard.
Other controls, many of which are particularly relevant to retail workers, include:
• installing a physical barrier to physically separate the worker from the public
• scheduling at least two people on duty
• using a locked drop safe
• making sure there is good visibility around a counter to help deter thefts or attacks
• ensuring work stations face the door so workers can see anyone entering the room
• installing panic buttons
• making sure the workplace is well lit.
Along with the risk assessment, companies should have a written lone worker policy that sets out who is considered a lone worker, individual responsibilities, risks of working alone and procedures that minimize those risk.
Checking in

A check-in system is commonly used to ensure lone workers stay safe. In home health care, it is particularly useful.
Home health-care workers are subject to a huge variety of risks, in part because their work environment is unfamiliar, uncontrolled and unpredictable, says Tina Dunlop, regional health and safety consultant at the Public Services Health and Safety Association in Toronto. Typical hazards include hazardous materials, pet bites, body fluids and exposure to communicable diseases. Other common hazards are musculoskeletal disorders (MSDs), slips and falls, injuries and workplace violence.
Some home care organizations, Dunlop says, require workers to call or text when they arrive at and when they leave the client's home.
"You have a dedicated person at head office who knows about your destination, estimated time of arrival, time of departure. So, if they know the worker is visiting Client B at a certain time and a check-in call is not received by that specific person, that would trigger a call to the client's home to say, 'Did they just forget or did they not arrive?'"
"Person check" procedures should include:
• the designated person who will establish contact
• time intervals between checks
• a check at the end of the shift
• a procedure to follow in case the worker cannot be contacted.
The most common technology used by lone workers in lower-risk industries are devices that work on a cellular network.
A worker may have a cellphone with phone numbers programmed. In an emergency, the person can quickly send a message to another worker, supervisor, family member, monitoring station or to 911. Alternatively, the worker could be wearing, around the neck or waist, a small panic button that can be programmed to send a call for help.
Both the cellphone and wearable panic buttons can provide the GPS location of the device, says Brad McIntosh, president of Calgary-based Lone Worker Safety Solutions. By pressing a button, a worker sends a quick message to alert the responder that she requires assistance. The message displays a hyperlink to the person's location.
"All the responder needs to do is click on that link in the text message and it brings up the worker's location on a Google map," he says.
Cellular panic buttons, worn as small pendants, are good for home health workers. If they are in trouble, they have something that is quick and discreet, so they don't bring attention to themselves.
In recent years, managing lone worker safety has been transformed by smartphone check-in apps, McIntosh says. At the start of the shift, a worker opens up the app, sends a message saying he is about to start a lone worker session and selects when his next check-in will be, often in two or four hours. Then, in the note field, he types information such as where he is going and what he is doing. He hits "start" and goes to work.
"In a couple of hours, your phone is going to beep and buzz and tell you you're about to miss a check-in. You can extend your session or you can end you session. But if you don't do something with this missed check-in, then whoever is monitoring or watching over you is going to get an alert and say, 'I think we have a problem; the person might be in danger.'"
Phone apps typically have a monthly subscription. However, because they use GPS technology, they have a strong advantage over manual check-in systems, McIntosh says. With manual check in, if a person goes missing, nobody knows where she is.
At Mississauga, Ont.-based Bayshore Health Care, Andrew Anderson, national manager of health and safety, says the organization uses a check-in system with GPS tracking. Moreover, whenever a home health-care worker is about to visit a new client, she does a risk assessment of the client's home — including information on the client's medical situation and potential hazards — and loads that assessment into her smartphone.
"They can be apprised of what's going on, what they can expect. And our smartphones have 911 that is a speed dial away. They can text, they can email, they can get help from their supervisor if there's a situation that they're encountering that's a little bizarre," he says. "The smartphone is key. We try to focus as much information as we can into that device, so they have all the resources in the palm of their hand."
Workers who work in remote areas, outside cellular coverage, must use other devices, such as those based on satellite networks, which work everywhere outside cellular phone areas. They also send GPS map points. They generally require subscription to an airtime package.
Less used today are radio systems. Radios are often used in vehicles and may have panic buttons. Radio technology is also used to make radio-frequency identification system (RFID) tags. Sometimes worn by nurses, these tags can be used to send an alarm to security personnel in the hospital.
Another, lower-tech device that lone workers often carry is a personal, audible alarm, such as a whistle, which helps to deter a potential attacker.
Employers should ensure their lone workers are properly trained in check-in system procedures, how to use communication devices and how to execute the emergency response plan. They also need to be trained on job-specific techniques that will help preserve their safety. For example, late night retail employees should be taught to stay alert and aware of surroundings and not to resist a threatening person or situation. Home health-care workers should be trained on the medical equipment they will need to use in the home to limit potential hazards.
Mark McLean, president of the Toronto Real Estate Board (TREB), says the initial training course agents receive includes discussions on playing it safe and emphasizes the importance of being careful. On its social media site, the board issues alerts to notify agents of potential dangers — if, for example, there have been reports of a person claiming to want to buy a house but whose activities are suspicious.
For agents, a valuable safety tool is the cellphone.
"When they meet someone, they might have 911 pre-dialled or have someone on standby on the line. They might have their cameras ready. They can do a number of things to work towards a safer environment; for example, if they're in a condo, they can talk to the concierge," says McLean.
At Bayshore, workers are trained on how to use their phones and the various helpful tools they come with. Managers go through the risk assessment with their employees.
"They're taken through what's required of the care plan," says Anderson. "The care plan and the risk assessment go hand-in-hand because we need to know what care we're expected to deliver."
Sometimes, care workers will be asked if they can do other tasks, such as change a light bulb in a ceiling or a stairwell, which could lead to injury.
"The worker needs to know that is not their job," he says.
Workers should also receive training on proper safety precautions when they are travelling and working alone. Some tips from WorkSafeBC include:
• planing the safest route to a client's home and staying on well-travelled roads and streets
• parking in well-lit areas and avoiding underground parking lots and dark alleyways
• locking the car while driving
• avoiding getting on or off at bus stops that are poorly lit or where there are few people.
In the days following the murder of the convenience store employees in Edmonton, the Alberta Federation of Labour called for stricter laws to protect people working alone at night. They asked the provincial government to enforce a policy requiring employers to have two workers on duty late at night or install protective locked barriers.
In response, Kathleen Ganley, justice minister, says her department will be reviewing the rules governing workers working alone, adding,
"These incidents are both tragic and disturbing," she says. "Every worker should come home safe at the end of the day, regardless of when they work or what work they do."
Linda Johnson is a freelance writer based in Toronto. She can be reached at

[email protected]

.

This article was originally published in the April/May 2016 issue of COS.