Petzl's mobile fall arresters protect lives – and have proved vital for essential workers during the pandemic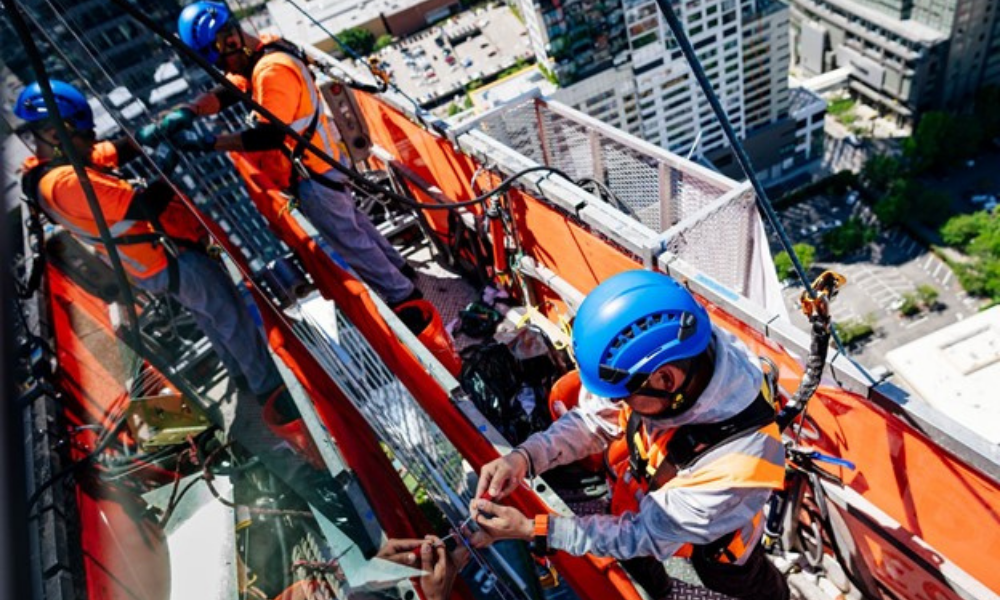 Have you spent the majority of the past 18 months at home, hungrily using up electricity, streaming movies and scrolling your phone? You're not alone. But have you considered the workers who have ensured these services continued uninterrupted and how they are kept safe when working at height?
Petzl's mobile fall arresters coupled with connectors, an energy absorber and a vertical lifeline allow people to work at height with the knowledge they have a back-up system to keep them safe. Originally introduced into the specialized rope access industry, like blade repair technicians on wind turbines, bridge inspectors and crews on offshore oil platforms; that clientele has expanded today to include more generalist users such as telecoms, broadband workers, electrical transmission tower workers, solar panel installers and building maintenance crews who now rely on this equipment to carry out their work safely and efficiently. These folks need a safety net, which is what Petzl provides with the ASAP and ASAP LOCK.
Saving lives
Falls on construction sites might be relatively low frequency events, but when they do happen the results can be life-changing or fatal. A fall of five feet at the wrong angle could mean you are unable to work again; while studies have shown that nine feet is one of the distances that proves most fatal as nobody has a chance to change body position.
Michel Goulet, National Sales Manager, told American Occupational Safety that, during certain work-at-height situations, Petzl's solution helps address this problem and stops a fall as soon as possible when the ASAP Vertical Lifeline System is installed correctly and when clearance requirements are taken into account during proper use.
He explained: "One of the problems in today's work at height industry is that a lot of fall arrest devices out there require the worker to pinch them or tow them with a pull cord when they want to move along their vertical lifeline. Those are generally referred to as rope grabs; they're inexpensive systems that are used by roofers, for example.
But if you happen to fall and grab this sort of device at the same time or continue to pull on the tow cord, well, you could ride it to the ground. So, how does the ASAP and ASAP LOCK mobile fall arresters work to mitigate this potential shortfall? Instead of relying on a leveraged arm, it relies on a wheel with an internal centrifugal brake. The wheel includes teeth that are always in contact with the vertical lifeline. If a fall occurs, the wheel will turn and the faster it turns, the faster it will lock on the rope."
Goulet compared it to the seat belts in your car – move them too quickly and they lock. Move it slowly and they will move freely. When the wheel locks onto the vertical lifeline it becomes a static device. To absorb the shock generated by a sudden drop and deceleration, the personal fall arrest system requires the use of Petzl's ASAP'SORBER which absorbs the fall energy and lessens the impact force on body, harness, anchors and the entire system. OSHA prescribes a maximum arrest force of eight kilonewtons. The average arresting force of Petzl's shock absorbers are four when used with the ASAP.
Flexible working
The ASAP, as opposed to the ASAP LOCK, is designed for more general industry workers such as roofers, or solar panel installers, for example. However, the ASAP LOCK has a locking function which allows the user to immobilize the device when they reach their work position. A lockout button, when activated, allows the wheel to only go up but not down.
Goulet explained: "The locking feature is great if you're working in a stationary position, and you place your fall arrestor above your head. In the unlikely event of a main line failure, your ASAP LOCK will already be positioned high and locked out which will reduce your length of fall and the impact force on your system and body.
More importantly, during blade repairs on wind turbines, for example, you're always working in a windy environment. The wind can push the rope slowly through the ASAP, creating more slack in the vertical lifeline above you if you don't have it locked out, which will make the fall longer if you have a main line failure or become disconnected or no longer supported by your suspension system. Petzl sells each component (ASAP, connectors, shock absorber, rope) separately. To meet the ANSI Z359.15 standard on Fall Arresters and Vertical Lifelines, each of these components need to be assembled and used per the manufacturer's instruction."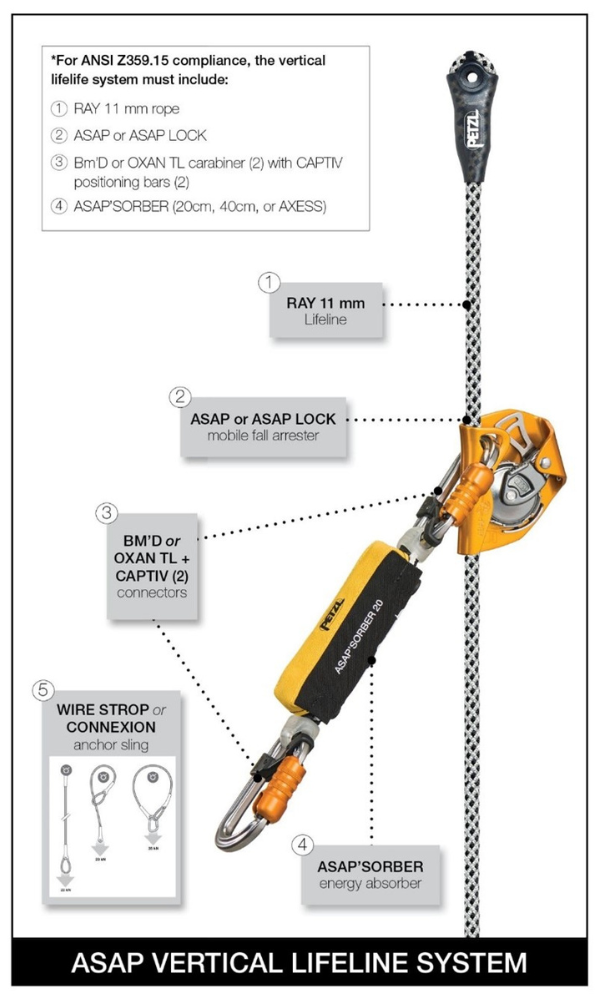 It's a fall protection system that spent many years in Petzl's R&D department and has proved a huge success in terms of increasing safety and work efficiency - something that became more evident during the pandemic. Goulet added: "We were delighted to confirm that a lot of the products provided by Petzl's Professional Department are sold to essential workers and that we are able to continue to provide our key PPEs, fall protection and rescue equipment without interruption during these challenging times.
Major markets for this Petzl solution includes broadband and telecom, wind, solar, and electrical transmission industries; so a lot of people who work day-in and day-out in aerial locations. These essential workers benefited the most from this life-safety equipment, which allowed them to keep the lights on and the phones and TVs signals working during the difficult past 18 months.