Government reports high number of absences among school staff, students, but insists numbers 'a little bit misleading'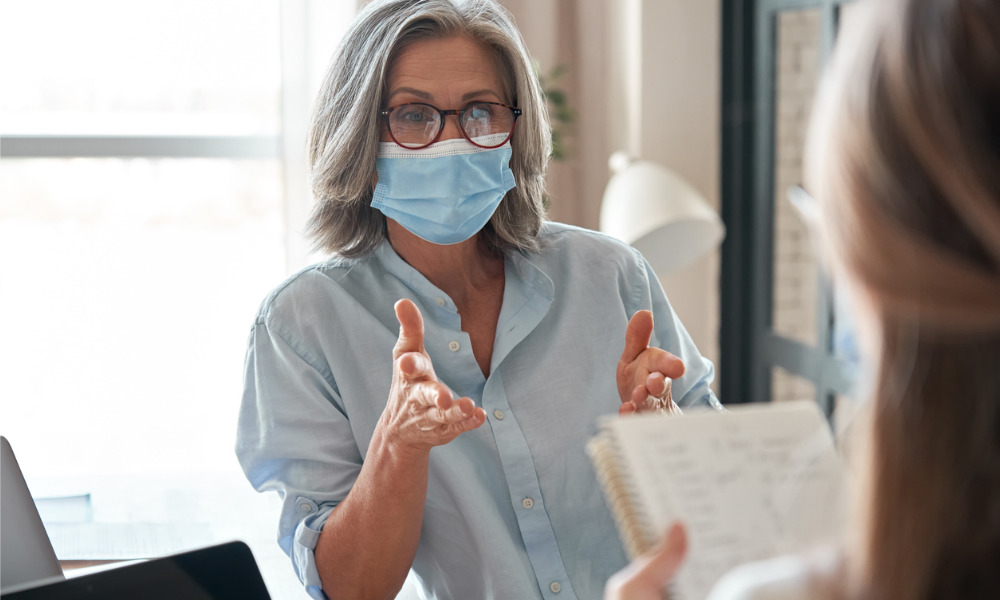 Some Ontario teachers are now refusing to work at schools because of COVID-19 safety concerns, according to a report.
Overall, there were 11 documented work refusals in Ontario's education sector over the week of Jan. 17, according to the Labour Ministry.
These refusals come as students and staff members returned to in-person learning with less transparency about the virus in schools. The province has also cut back on testing and contact tracing.
"The nature of the issues received involved COVID-19 safety precautions such as physical distancing, and contact tracing," Ciara Nardelli, a spokeswoman for the ministry, said in an email to The Canadian Press.
One of those who refused work was Mary Fraser-Hamilton initiated, a Brampton, Ont., drama teacher, who initiated work refusal on Wednesday. She cited concerns about ventilation, student mask quality and adherence, lack of access to virus tests and contact tracing. She said she was also worried about the lack of a safety plan for lunchtime when students are unmasked.
"We aren't organizing or anything. We're all just fed up," she told The Canadian Press.
People have a right to refuse work they believe is unsafe under Ontario's Occupational Health and Safety Act. Once reported, the Ministry of Labour will look into whether the hazard exists and what can be done to address the concern, if there's any.
The lack of information on COVID-19 cases and students' mask quality are also among the teachers' concerns.
Members of the Ontario Secondary School Teachers' Federation appear to be more willing to take work refusals at this point, said Ryan Harper, president of the Peel bargaining unit for the federation, according to the report.
"We have far weaker standards now in place in Ontario than what we had in December and at the same time, we have way more cases in the province," Harper said.
Between Jan. 2020 and Dec. 2021, the ministry said there were 53 virus-related work refusals in Ontario schools, The Canadian Press reported.
In December 2021, Ontario reintroduced capacity limits at restaurants, bars and retailers, and capped indoor social gatherings at 10 people as the Omicron variant spread across the province.
"It just doesn't make sense to a lot of people that the provincial government would go ahead and remove whatever protective layers were in place in our schools at a time when we are most at risk of exposure to the virus."
Absences among school staff and students in different schools across Ontario have also been rising, according to data from the Ontario government.
In Mino Mikaaning in Sault Ste. Marie, 57.1 per cent of school staff and students were absent on Jan. 26. This number was at 35.4 per cent at Hornepayne PS in Hornepayne, 34.6 per cent at H M Robbins PS in Sault Ste Marie and 25.7 per cent at East View PS, also in Sault Ste Marie. All these schools are under the Algoma District School Board.
Among those under York Region District School Board, the number was 25.4 per cent at Fossil Hill PS in Woodbridge, 23.1 per cent at Crossland PS in Newmarket and 21.7 per cent at Holland Landing PS in Holland Landing.
However, the government web page reporting the number of student and teacher absences across Ontario may be misleading the public, said Michael Bellmore, vice president of the Ontario Catholic School Trustee's Association, according to a CBC report.
"I think it can be a little bit misleading from the perspective that those absences are not strictly related to COVID or anything dealing with COVID," he said.
In the daily report of absences, the province doesn't break down the reasons behind those absences, which could include bus cancellations or students staying home during snow days, according to the report.
In August and September, before the start of the new school year, there were calls throughout the country calling for stronger safety measures in schools to protect teachers and school staff.
However, there were still schools that have reported COVID-19 outbreaks.