Agricultural Safety Week being marked across Canada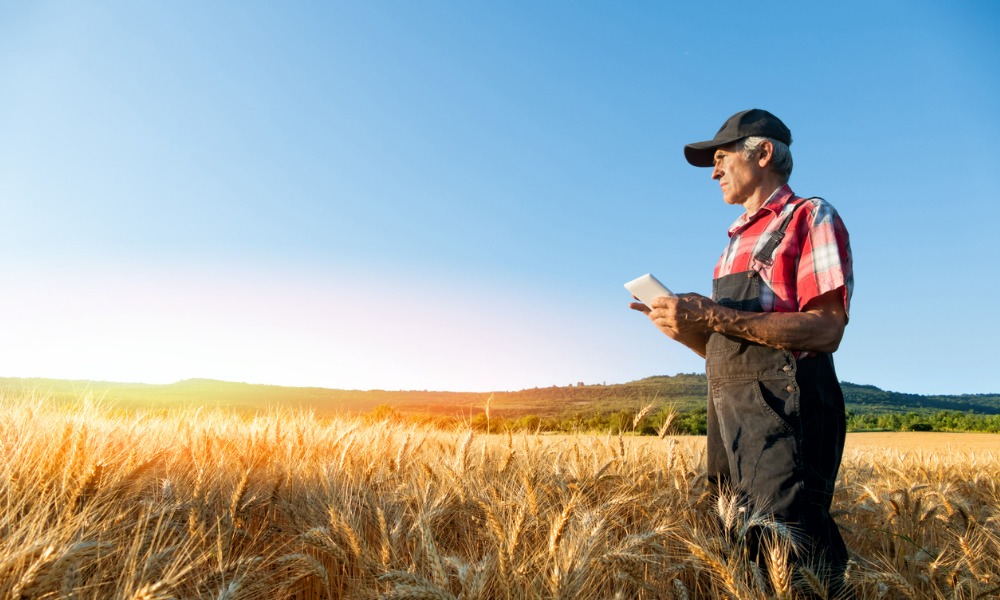 Farmers across Canada are marking Agricultural Safety Week and fatigue as well as emergency preparedness are emerging themes.
"Just keep looking after yourself," says Robin Anderson, communications coordinator for the Canadian Agricultural Safety Association, "because we know that farms cannot survive the death of a primary farmer."
Anderson says the top two mechanisms of fatal injuries on farms are runovers and rollovers involving heavy machinery. "That's how people are getting killed, but why are they getting killed?" asks Anderson. She thinks it has more to do with fatigue.
Farmers work extremely long hours with a lot of manual labour. "If you are so tired, and you are trying to get the feeding done, or the crop off, or the hay out… you're just really trying to get what you need to get accomplished…being impaired by fatigue can really lead to bad consequences," says Anderson.
Anderson encourages farmers to think about the business case for safety and remember the most important asset on the farm are the people doing the work. Maintaining mental and physical health is the only way to guarantee the workers achieve the farm's goals, and Anderson says that applies to everyone on the farm.
The plight of migrant workers is well documented, and Anderson says the wellbeing of every single individual is critical to the overall safety and success of the farm. "Everybody that works and lives on farms is incredibly valuable, and they all deserve to be looked after."
Looking after a farm also includes preparing for the worst. Nova Scotia took a direct hit from Hurricane Fiona, which made landfall as a tropical storm, in September 2022, just as harvesting season was getting underway. While the farming community in that province marks Agricultural Safety Week, the focus is on emergency preparedness.
"Natural disasters are top of mind," says Carolyn Van Den Heuvel, executive director of the Nova Scotia Federation of Agriculture, "and we continue to see climate events impacting our farms."
Van Den Heuvel says natural disasters are having a longer lasting impact and being prepared for these events can be the difference between a successful season, and catastrophic one. It also impacts everybody's safety.
Van Den Heuvel says when preparing for a storm, people come first, then animals. The next priority is making sure power generators are maintained and enough fuel is safely stored on site. "Having good relationships with service providers," can also go a long way according to Van Den Heuvel.
The NSFA provided this infographic to help farmers prioritize emergency planning.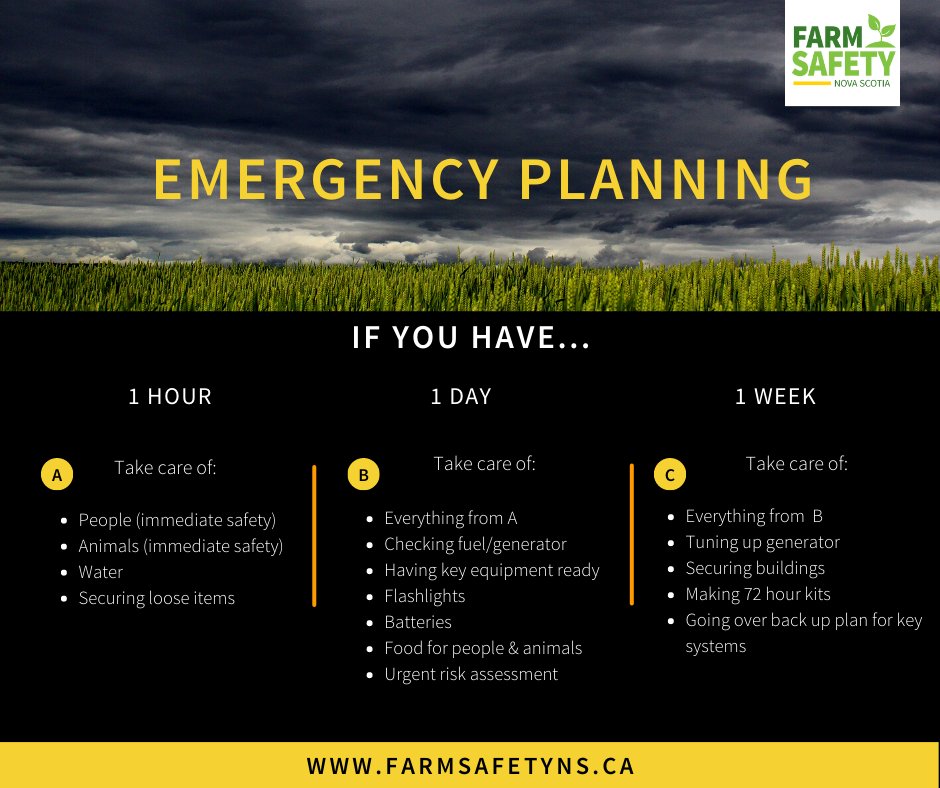 "Securing anything that may be outside a window is an issue, and really just looking at what the potential challenges might be at the time of the storm," say Van Den Heuvel, which also includes stocking up on supplies, "making sure there's water available, that there's feed available, and then of course, make sure we have our homes ready as well."
Many of these safety tips can be applied in other industries as well. Fatigue impacts workers of all types and the way humans take of themselves and each other is universal. Also, when natural disaster strikes, we're all in it together.