'Having access to expedited testing helps ensure our first responders can safely limit time away and return to the front lines to serve those in need of help'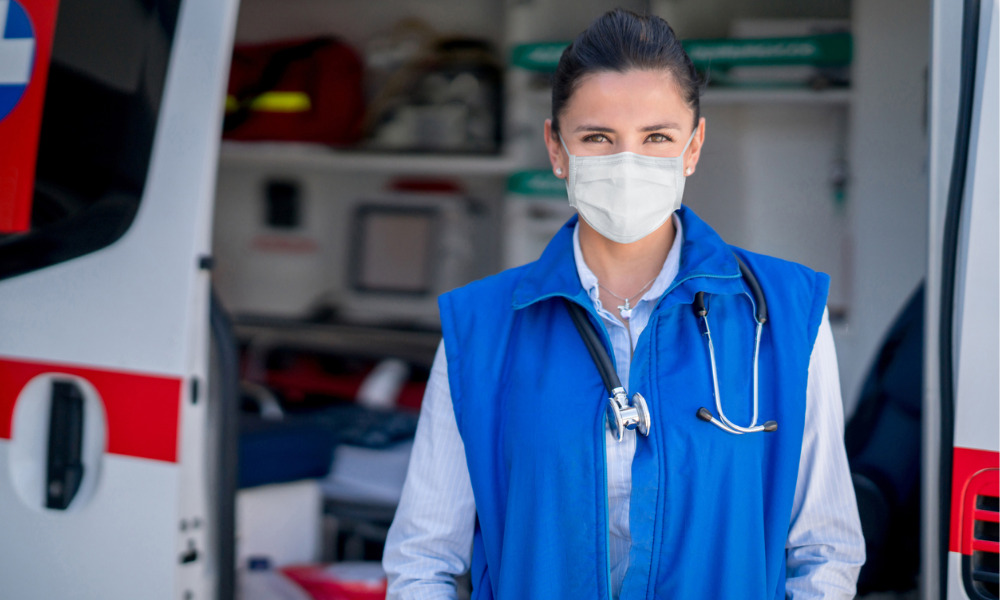 Manitoba is offering dedicated COVID-19 testing appointments for first responders and health-care workers this week, along with a new dedicated testing site in partnership with the City of Winnipeg.
"The city identified the importance of prioritizing testing for its first responders and I'm pleased to see the province supporting that request," said Winnipeg City Mayor Brian Bowman. "Having access to expedited testing helps ensure our first responders can safely limit time away and return to the front lines to serve those in need of help."
The drive-up testing site will be located in the parking lot of the Winnipeg Fire Paramedic Service (WFPS) training academy at 2546 McPhillips St. It is expected to open on Friday.
The site will be staffed by licensed WFPS paramedics not currently working in the field. It will offer services for police officers, firefighters, paramedics and emergency communications personnel with the potential to also offer a limited number of slots to health-care workers.
It can handle 40 to 60 tests per day. Appointments will be available Monday to Friday from 7:30 a.m. to 3:30 p.m.
The Winnipeg Regional Health Authority (WRHA) will also open a limited number of testing appointments at the 2735 Pembina Hwy. and 604 St. Mary's Rd. testing sites specifically for health-care workers and first responders.
"Reserving a portion of every day's testing appointments for health-care workers and first responders is about making it that much easier for those critical members of our community to get tested and hopefully, back to work as quickly as possible," said Pat Younger, lead for community health services, WRHA. "The appointment-based system for COVID-19 testing that was introduced earlier this fall has proven to be a success in terms of improving patient flow at our testing sites and this step represents another positive advancement in those efforts."
Health-care workers and first responders needing a COVID-19 test can book an appointment by calling 1-855-268-4318 (toll-free). Individuals will need to show their professional identification at the testing site to access their pre-booked appointment.
"Health-care workers have been on the front line of the fight against COVID-19, frequently placing themselves at greater risk of exposure to the virus in order to provide treatment and care for patients," said Cameron Friesen, minister of health, seniors and active living. "Expanding access to timely testing recognizes their immeasurable importance to our health system fight against COVID-19."
In October, Nova Scotia invested $1.25 million through the Emergency Services Provider Fund to help first responder organizations buy emergency equipment.
Personnel
Also, Manitoba has signed an agreement with G4S Canada that would allow the company to provide upwards of 90 personnel to bolster the complement of provincial employees enforcing public health orders.
"The vast majority of Manitobans are stepping up and following the fundamentals to protect themselves, their loved ones and their community. We're targeting those who refuse to follow public health advice and put others at risk," said Premier Brian Pallister. "Today is another step in our enforcement efforts to help protect our most vulnerable Manitobans and ensure our health-care system is there for all Manitobans, when they need it."
A number of G4S personnel, along with provincial employees who are being redeployed to dedicated COVID-19 enforcement efforts, are now undergoing specialized training Commissionaires Manitoba. A total of 68 individuals have already been trained, with approximately 80 people scheduled to complete the program this week, according to the government.
Over the weekend, the Manitoba government-deployed team of provincial employees dedicated to public health order enforcement had more than 225 interactions with a wide variety of businesses, organizations and individuals. During the past week, a total of 32 tickets were issued for various offences including large gathering sizes, failure to quarantine and a northern travel violation, according to the government.
In October, Ontario invested $52.5 million to recruit, retain and support over 3,700 more frontline health-care workers and caregivers to ensure the province's health care system can meet any surge in demand while continuing to provide safe and high-quality care to patients and long-term care residents.