Group warns hospital occupancy levels are rising quickly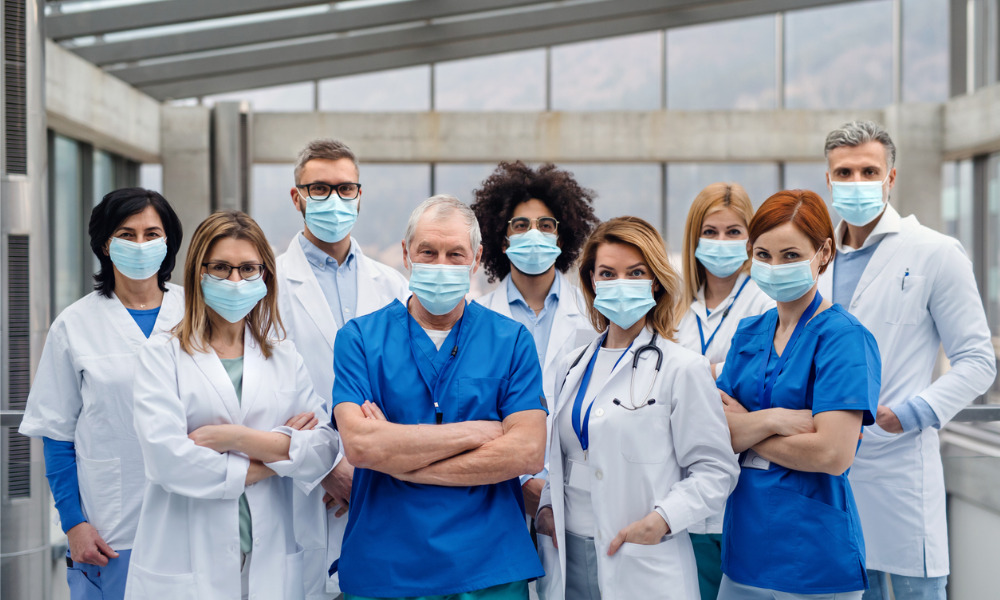 Ontario is investing $52.5 million to recruit, retain and support over 3,700 more frontline health care workers and caregivers to ensure the province's health care system can meet any surge in demand while continuing to provide safe and high-quality care to patients and long-term care residents.
"It's the thousands of nurses, personal support workers, and other frontline workers who have made the difference in the fight against COVID-19," said Premier Doug Ford. "Today's significant investment will allow us to recruit, retain, and quickly deploy a militia of health care heroes, caregivers, and volunteer professionals to care for our seniors and most vulnerable and ensure our health care system is prepared to deal with any outbreaks or surges in cases."
From the funding, $26.3 million will be allocated to support personal support workers (PSWs) and supportive care workers, including:
$14 million for the Personal Support Worker training funds to continue training PSWs in the home and community care and long-term care sectors;
$10.3 million for the new Personal Support Worker Return of Service Program, to recruit and retain recent graduates and provide a $5,000 incentive to 2,000 recent graduates for a six-month commitment to work in long-term care homes and in the home and community care sectors;
$1.3 million to train 160 supportive care workers to provide basic home support services; and
$700,000 in accelerated PSW training for 220 students with prior health experience to practice in Ontario.
The province is also investing $26 million to support nurses, including:
$18 million for Ontario's Nursing Graduate Guarantee program, which provides full-time salary and benefits for over 600 nurses with a focus on recruiting in areas of need such as long-term care homes and acute care settings; and
Up to $8 million to add over 800 nurses to the health system in areas of need across the province.
The province is also supporting frontline workers, families and caregivers by:
investing $200,000 to improve the matching algorithm for the Ontario Matching Portal, which will enable employers to get faster matches that best meet their needs;
expanding training, tools and resources available to frontline workers across the social services sector; and
continuing to update visitor policies for congregate care settings, including long-term care, that promote family and caregiver involvement to support better care and reduce isolation.
"Retaining and increasing the number of frontline health care workers in our continuous fight against COVID-19 is critical," said Christine Elliott, deputy premier and minister of health. "We are taking further action to ensure our frontline health care workers are supported, and the health care sector has the staff to provide timely, high-quality care."
Among all Ontario workers who have acquired the COVID-19 coronavirus from January 15 to June 22, 2020, 17 per cent were healthcare workers, according to data from Public Health Ontario.
Warning
On Monday, the Ontario Hospital Association (OHA) called on the Government of Ontario to immediately intensify public health measures in certain areas of the province, including Toronto, all regions of the Greater Toronto Area (GTA) and Ottawa.
"A return to Stage 2, with restrictions on indoor dining and bars, places of worship, weddings, gyms, movie theatres, and other non-essential businesses, is needed now to keep schools open and prevent a further acceleration of infections," said the group. It noted that hospital occupancy levels are rising quickly in Ontario.
"We've seen in jurisdictions around the world how acute care capacity can be easily overwhelmed if the number of positive cases rises too sharply. While Canada's health care system has many strengths, our capacity is limited, and we can no longer retain a false sense of security and belief that this will not happen to us," said OHA. "At this rate, Ontario hospitals are facing a direct threat to their ability to continue delivering the highest quality of care to Ontarians."
A great deal of the stand-by capacity created at the onset of the pandemic last spring has already been filled. Currently, the acute care occupancy rate is 89 per cent with several hospitals hovering around the 100 per cent level. While the number of patients in Ontario hospitals waiting for an alternate level of care (ALC) dropped significantly in March and April 2020 as hospital beds were cleared, ALC cases rose significantly throughout May and June, reaching a historic high of more than 5,300, according to the group.
OHA warns that, moving forward, "as long-term care homes appropriately try to limit the use of three- and four-bed rooms to safeguard residents, ALC rates will continue to climb quickly, jeopardizing elective surgeries from continuing for the duration of the pandemic."