Unions protest, one claims government 'bypassed democratic process'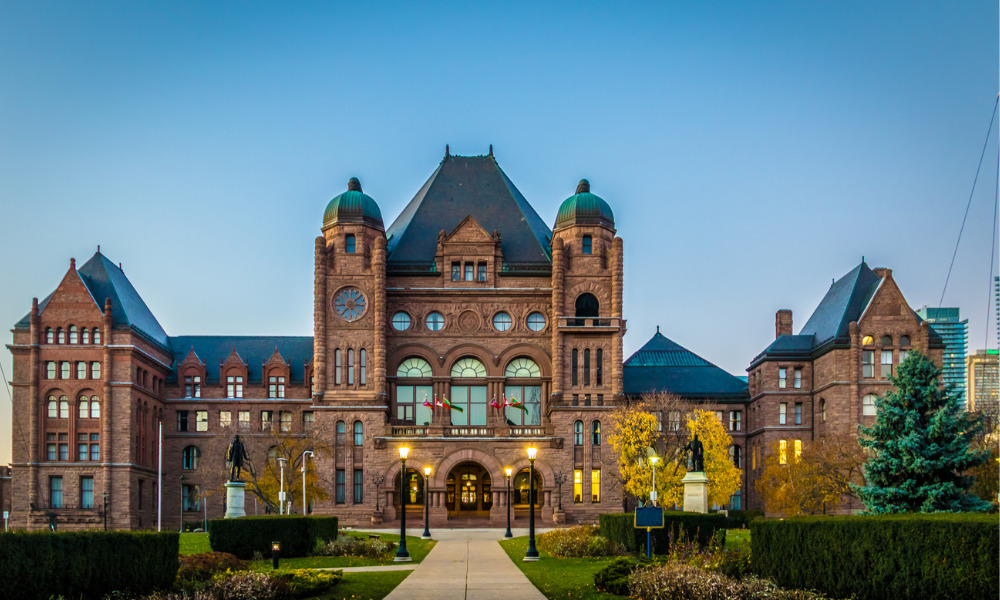 The Legislative Assembly of Ontario passed Bill 195 and Bill 197 after they received royal assent on Tuesday despite calls to amend legislation.
Bill 195, or Reopening Ontario (A Flexible Response to COVID-19) Act, 2020, continues orders made under sections 7.0.2 and 7.1 of the Emergency Management and Civil Protection Act (EMCPA) in relation to COVID-19. Continued orders will cease to apply after 30 days but can be extended by the Lieutenant Governor in Council for additional periods of up to 30 days.
"If passed, the proposed legislation would allow us to chart a responsible path to economic reopening and recovery without putting all the progress we've made in fighting this virus at risk," said Premier Doug Ford about the bill when he announced the legislation on July 7. "Even as we continue certain emergency orders under the proposed legislation to protect public health, we will always be a government accountable to the people of Ontario. That's why I will ensure ongoing updates are provided and that a report is tabled within four months of the anniversary of this proposed Act coming into force."
The bill also allows the Lieutenant Governor in Council to amend certain emergency orders continued under the EMCPA if the amendment relates to labour redeployment or workplace and management rules; and closure of places and spaces or regulation of how businesses and establishments can be open to provide goods or services in a safe manner, among others.
Meanwhile, Bill 197 – or An Act to amend various statutes in response to COVID-19 and to enact, amend and repeal various statutes – amends several provisions of the Building Code Act, 1992; City of Toronto Act, 2006; and Development Charges Act, 1997, among others.
Protest
With the passing of the bills, the Ontario Nurses' Association (ONA) called the day "a dark day" for the province's registered nurses and health-care professionals.
"This government has bypassed democratic process and rammed through Bills 195 and 197. Bill 195, the creatively named Reopening Ontario (A Flexible Response to COVID-19 Act)," says ONA President Vicki McKenna, RN, "provides extensive powers to override collective agreements and take away the rights of our nurses and health-care professionals who have been working so hard to provide care during the pandemic."
McKenna says that registered nurses, nurse practitioners, registered practical nurses and health-care professionals are "exhausted from the long hours, stress and uncertainty they have endured during COVID-19, and they deserve respite. Instead, this bill enables their employers to deny or cancel vacation time, redeploy them to another unit or health-care facility at any time, and have far too much authority that is unchecked by the collective agreement."
"Bill 197 does not appear to have much to do with COVID-19 economic recovery," says McKenna. "Instead, it allows health and safety measures and environmental protections to be watered down."
On Tuesday, front-line hospital staff who are members of the Canadian Union of Public Employees (CUPE) held a five-minute, in-hospital political protest against Bill 195 that if not amended will impose "emergency order" workplace conditions on them for an indefinite time.
"Stripping the contract rights of dedicated health care workers, who have sacrificed so much during this pandemic including being with their families and friends to shield them from infection, has consequences for this government. This is picking unnecessary conflict with a loyal workforce," said Michael Hurley, president of CUPE's Ontario Council of Hospital Unions. "The Premier and his ministers are creating instability just as the province is reopening. We encourage them to reconsider taking away health care workers' rights."
On Friday CUPE hospital workers staged workplace rallies across Ontario opposing aspects of Bill 195. On a provincial call on Monday CUPE hospital sector members voted on further political protest actions unless Bill 195 is amended.
Doug Ford
Meanwhile, the Ontario government on Tuesday announced a new innovative Accelerated Build Pilot Program that will enable the construction of two new long-term care homes in Mississauga in a matter of months, not years.
By working with Trillium Health Partners and Infrastructure Ontario, the province intends to add up to 640 new long-term care beds by 2021, according to the government. This is part of the government's $1.75 billion funding for long-term care beds.