Newly crowned safety officer of the year 'still pinching myself' after receiving honour at Canada's Safest Employers Awards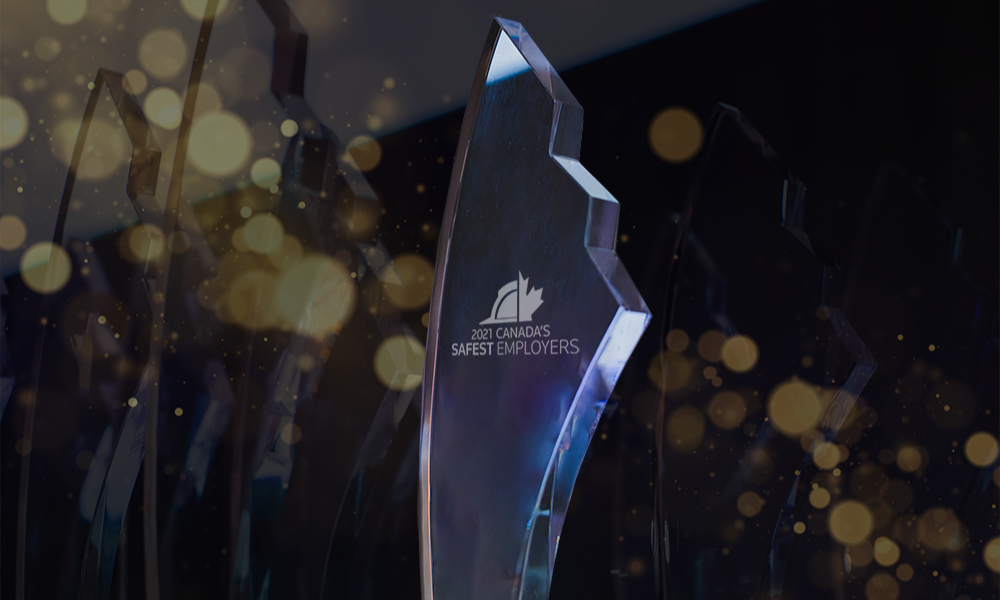 "I'm still pinching myself," said George Minow, our newly minted Safety Leader of the Year. After accepting his award, Minow – who is the Manager of Health, Safety and Wellness at Kitchener-Wilmot Hydro told COS: "I truly appreciate this honour for a career of service meant to help others do the right thing."
A full list of our 2021 winners is available here.
Canada's Safest Employers Awards, now in its second digital iteration, was once again a roaring success, and the virtual transition did nothing to dampen the spirits of our attendees, speakers, finalists and winners.
The 11th annual show saw a lot of talk about how organizations can build a strong safety culture. In fact, building a strong safety culture is among the chief concerns for OHS professionals.
All throughout the day, our expert panellists shared their insights into the hot button topics in the OHS world.
"I think health and safety definitely is driven by passion, it's driven by personal experience, it's driven by leaders wanting to protect their organizations and the individuals who make that organization strong," said Sandra Miller, VP Strategy & Governance, WSPS, during a panel on how to build a strong safety culture from the top-down.
Safety starts from the top, said Miller, and leaders set the tone with the "heart and passion" that they have. During the panel, participants weighed in on how leadership can engage with workers about the importance of workplace health and safety.
"Fostering a prevention mindset and a strong safety culture requires a comprehensive program led from the top of the house," said David Gandossi, President and CEO, Mercer International.
There are many elements that need to be in place to build a strong safety culture, and leaders need to support engagement and transparency.
"For me it's a bit like spokes on the wheel that all need to be in place," said Gandossi.
Adding to this, Yves Tremblay, President & CEO, Pronghorn Controls, said: "Four areas or themes comes to mind when I think about leadership's role in driving a safety culture forward in an organization. Those areas are core values, leading by example, leading indicators and celebrating success."
And when it comes to engaging with employees, youth engagement – notably engaging with millennial and Gen Z workers – is crucial, said Steve Loftus, Innovative Automation. Loftus says that his company did a lot of research into what motivates workers in that age group.
"We came down to almost a single point that was key and that is a sense of belonging," said Loftus. "How you generate a sense of belonging in that employee is that you empower them within the workplace to give value to everything that you're doing, which includes health and safety."
Leadership was a key theme during the panels, but the eight sessions also covered other crucial aspects of health and safety such as sustainability, mental health and – of course – the pandemic.
The awards were also a great place for up-and-coming safety professionals to glean top tips from industry heavyweights.
"We have a great many talented, well-educated persons entering the profession […] Pick up all the information you can from a seasoned pro – that's how I began," said Minow, who, as Safety Leader of the Year, certainly knows a thing or two about starting a successful career in safety.
The pandemic has also shifted perceptions around health and safety, with Erin Oliver, VP Health Safety & Sustainability, Modern Niagara, noting that there was now much more visibility around the role of safety professional.
With the pandemic having drastically impacted the sector, roles have been redrawn and more so than ever, safety pros have to forge stronger relationships with the workers in their organizations.
Said Sean Cammaert, Head of Safety for BASF Canada: "The development of the relationship has become very important. Now we bring safety home and it's not just something we do at the workplace."