And how a personal connection led to this ergonomist's passion for occupational health and safety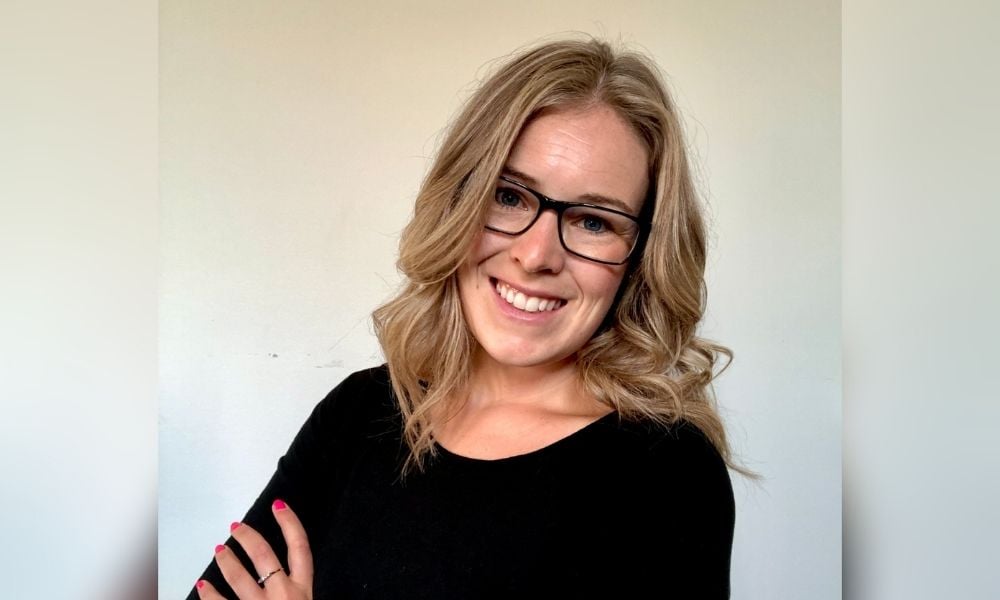 Dr. Heather Johnston, PhD, is a research analyst with the Institute for Work and Health (IWH).
She is also a recent recipient of the inaugural WorkSafeBC Ralph McGinn Postdoctoral Fellowship award, which supports doctoral graduates who are training for careers as academic researchers in occupational health and safety or work disability.
Dr. Johnston's fascinating research project is to determine the risk factors and hazards common between work-related psychological injuries and musculoskeletal injuries (MSIs), as well as to explore how Canadian workplaces address these common risk factors.
"It's a very exciting opportunity," says Dr. Johnston, "it's taking what I've learned in the past, my background is in kinesiology – biomechanics and ergonomics. More recently during my PhD, I completed a certificate in health psychology, so I'm getting to bridge those together."
"Historically, we know a lot about musculoskeletal disorders […] and more recently psychological injury is becoming an even bigger concern or burden in Canadian workplaces and internationally as well. And compensation boards have to now figure out ways to compensate for things like psychological injury," she says.
However, says Dr. Johnston, we don't know as much about the risk factors that might occur for such injuries.
A personal connection
Dr. Johnston has a background in kinesiology, with a focus on ergonomics and biomechanics – and a personal interest in the topic.
"The interest there started out in my undergrad in ergonomics. I was just fascinated with this health and safety piece of how we can treat workplace injuries […] some of it comes from a personal connection: my dad was a heavy equipment mechanic and also a volunteer firefighter, so I saw him go through all sorts of different musculoskeletal disorders (MSDs), psychological injuries…and that was always just something that was in the back on my head."
She says that there was not a lot of support for general workers like her father, and she was interested in solutions to prevent MSDs.
"Maybe that's why I stuck it out in school as long as I did, it was to find new ways to help as many people as possible," says Dr. Johnston.
In her current role at the IWH, Dr. Johnston has worked on a variety of projects, but the primary projects that she has been affiliated with have to do with disability in the workplace – specifically, she says, how do we promote sustainable employment and incentive programs to do so.
But she has also worked on a wide range of topics, which is something that she has really enjoyed.
"That was really the best thing that I could have asked for, because it helped me develop a bunch of different skills that would be very useful as I move forward, and it taught me to think a bit more broadly.
I do enjoy looking at how different approaches can tackle the same problem. I think that occupational health and safety benefits from that interdisciplinary approach," she says.
Wider interest
More and more, workplaces are realizing the importance of ergonomics – certainly the pandemic has raised the issue for those working from home in less than ideal set-ups.
"It's top of mind for me, because I have the background and interest," she says. "I think there has been a lot of talk about it – but I still feel as though it's rooted in traditional ergonomics where we're focusing on sedentary workplaces, like office work ergonomics."
But for someone like Dr. Johnston, the topic is so much wider than that – just look at her research topic. Mental health and psychological are equally important, and have been brought to light by the pandemic.
"Psychological safety, that's part of ergonomics and a huge component of even just how workers behave in their work environment in general," she says.
As for her future projects, Dr. Johnston hopes to stay in the field in some capacity, bridging research. She is also keen to do a bit of teaching:
"I love teaching – and in many forms, it doesn't have to just like the lecture hall classroom."
Indeed, she enjoys things such as community outreach.
Ultimately, says Dr. Johnston: "I'm excited to continue my role at the Institute and branching out into more of own research. I think that's really exciting, and I am looking forward to collaborating with the team that we have here."