Few are unlikely to reach out for professional help, finds report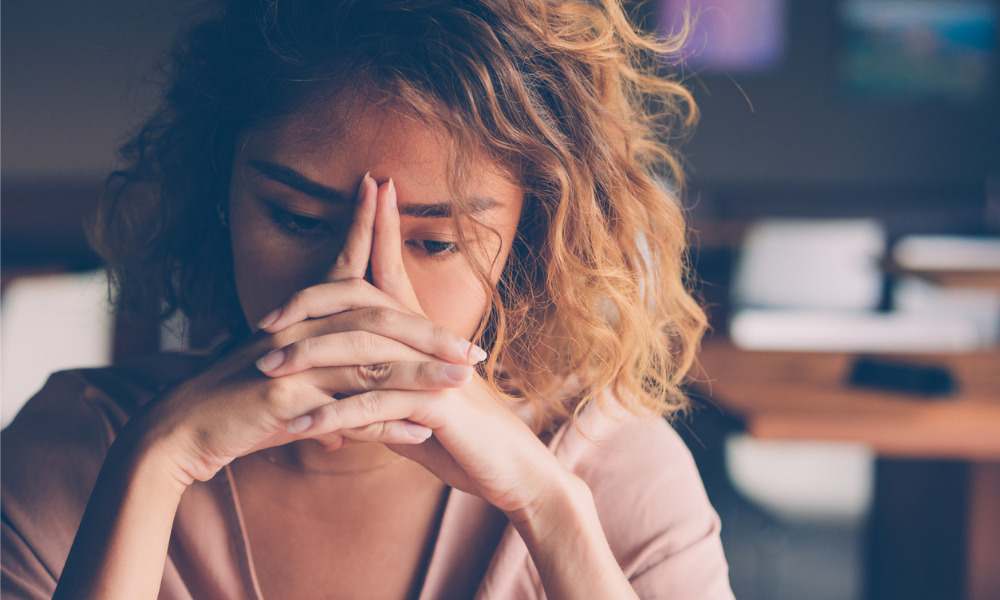 While workers and employers are slowly getting back to their pre-pandemic routines, the mental health of working Canadians is still yet to recover.
Nearly (46 per cent) of them have noticed that they are more sensitive to stress compared to before the COVID-19 pandemic, while 49 per cent say the same about their colleagues, according to a LifeWorks report.
Taking a deeper look into the respondents, the survey of 3,000 respondents in Canada, conducted April 7 to 22, 2022, found that some groups are more likely to report increased stress compared with others.
Specifically, those aged 39 and below are 50 per cent more likely to feel an increased sensitivity to stress than those older than 50.
Also, Canadians with a reduced salary or fewer hours are also more than 30 per cent more likely to feel sensitive to stress compared to before the pandemic.
"While life has begun to return to a sense of normalcy for some, many are carrying the heavy weight of stressful world events on their shoulders. As these occurrences continue to impact peoples' mental health, it will create an even more unpredictable landscape for individuals and the economy," says Paula Allen, global leader and senior vice president, LifeWorks.
Nearly two in five (38 per cent) of workers in Canada say that they are more burned out now than a year ago, according to a separate report from Robert Half.
Positive takeaways
But there's something positive to take from the current situation.
Overall, Canadians' score on LifeWorks' Mental Health Index stands at -10.0 compared to pre-pandemic, a half point improvement from March's score of -10.5..
And just 17 per cent of those struggling with stress or with their mental health are unlikely to reach out for professional help, according to LifeWorks' study.
"Our research is showing a modest mental health improvement among Canadians this month, with many feeling comfortable enough to reach out for professional help when they need it," says Stephen Liptrap, president and chief executive officer, LifeWorks.
Keep focus on mental health
This, however, does not mean employers must turn their focus away from supporting workers' mental health, he says.
"While this is encouraging to see, stressors inside and outside of the workplace continue to make it challenging for individuals to manage their wellbeing in a healthy way. It is important for employers to recognize there is often more than meets the eye when it comes to how employees are feeling, and that providing ongoing communication and support is critical to ensure employee mental health remains a top priority."
In fact, some employers even need to step up. While 54 per cent Ontarians say they have access to an employee benefits plan, just 36 per cent report having access to a plan that includes coverage for mental health supports, according to a previous report.
Here are six ways to improve employee mental health, according to the Van Lago, who is on the leadership board with the ADP Pride business resource group (BRG):
View investing in mental health as investing in your business.
Evaluate your benefits.
Proactively support mental health to prevent burnout.
Create a culture of openness about workplace pressures.
Encourage employees to take time off.
Take steps to support diverse employee groups.