Experts explain why businesses of all sizes are at risk of security breaches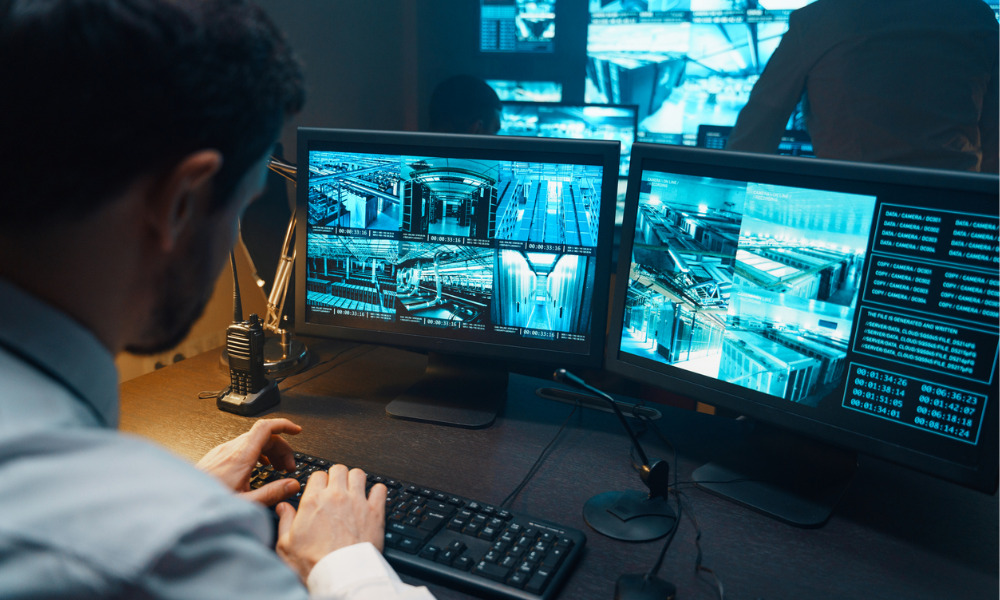 Security is a huge concern for workplaces across Canada. Building safety, cybersecurity, workplace violence, etc. More than ever – and with many Canadians soon returning to the physical workplace – employers need to ensure that they are doing all they can to keep workplaces safe. Here are nine things to look into.
1. Establish a workplace security plan. At the very least, every business or organization of any size should have some kind of security plan in place. Having a security plan will help identify risks and hazards to look out for as well as alleviate employee concerns around safety. Some workplaces may need more security training and equipment, but some kind of security is universal to all workplaces.
2. Invest in security cameras. In a post on LinkedIn, Ash Mahmood said that cameras should be installed at key points (such as entrances or exits) – or where businesses are the most vulnerable. In addition, lighting is important. Mahmood says that lights should be maintained properly so that the cameras can do their job adequately.
It is also important that businesses check provincial legislation first, to ensure that they are not infringing on employee rights (who may, for example, have privacy concerns).
3. Proper identification cards (with photo ID). Knowing exactly who is in the workplace and where is important – keeping track of who comes in and out of the building or site will help keep workers safe. And for temporary visitors such as guests or prospective employees, a visitor ID card should be a must.
4. CCTV and cameras. Surveillance equipment is a must for a number of businesses and one of the most basic and effective ways that companies can stay safe. In addition, surveillance solutions can serve myriad purposes. For example, during COVID-19, cameras have allowed businesses and organizations to keep track of client flow (e.g. in shops and supermarkets).
"Once you've got your systems in place, they can be expanded to do other things," said Gavin Daly, Architect and Engineering Manager (A&E) with Axis Communications, Inc.
5. Train employees for emergencies. We have said it often enough on COS, but it bears mentioning again. Effective training is key to optimal worker safety. Many of the injuries and fatalities we see could have been avoided or mitigated if employers had provided proper training to employees. Specifically, training for emergencies is key – especially first aid.
"First aid training should be part of the organization's safety plan and/or part of their training plan. As far as the emergency response plan, a first aid drill should be performed from time to time, similar to a fire drill," said Chris Schmied, Manager of Learning, St. John Ambulance, to COS recently.
In Canada, requirements depend on each province's health and safety legislation.
6. Close doors and windows. Mahmood also points out that workers and employers should make sure that all windows and doors (and any other potential entry points) are closed before leaving the premises. He also says that when arriving at work in the morning, one should look for signs if anything as changed (which could signify a break in attempt).
7. Avoid having employees work alone. Remote and lone work may be inevitable in some sectors, but broadly it is a good idea to buddy up workers so that they are not alone. This is especially the case during more vulnerable hours (such as night time) or in fields where employees may be handling valuables (banks, pawn shops, jewellery stores, etc.).
8. Check the entry and exit points. Going back to the previous point about closing doors and windows, companies should also be aware about a site's entry and exit points – some may not seem obvious or important but unchecked access could lead a workplace vulnerable.
9. Make sure devices are all password protected. Broadly, employers should ensure that their cybersecurity is up to scratch. Cybercrime is an issue for companies of all sizes.
"Most people think that they're not a target because they're too small to be hacked. They think that they're off the radar. But cyber criminals know that, especially if you're a small business owner, you don't have the time, money or resources to deal with a cybersecurity issue," said Terry Cutler, an ethical hacker and cybersecurity expert, to COS.