Expert weighs in on which surveillance solutions OHS professionals should be looking into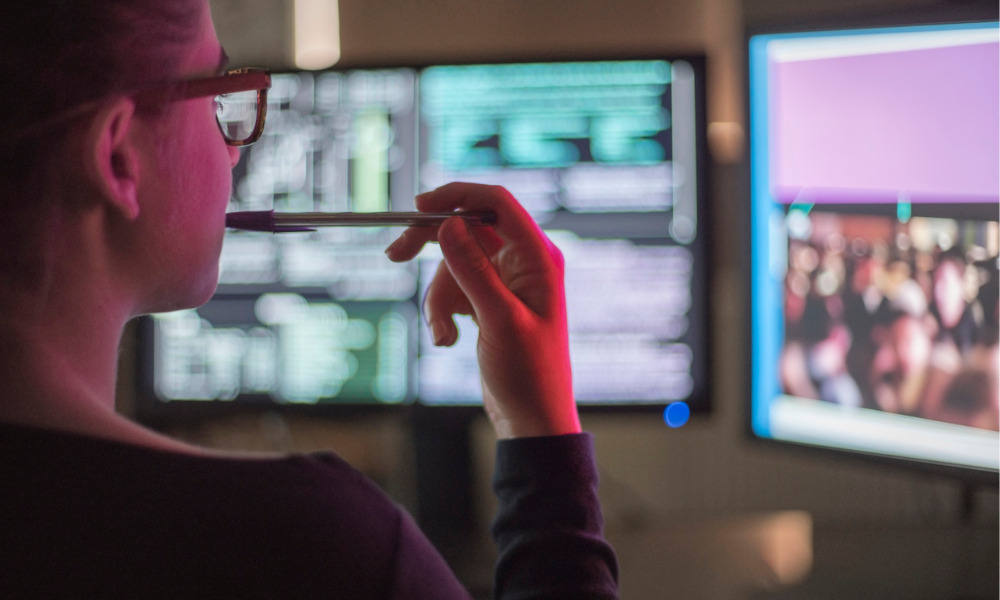 More and more, tech is becoming a huge part of workplace health and safety. With the current COVID-19 situation, surveillance tech may provide options to businesses and organizations seeking to optimize health and safety.
COS recently spoke with Gavin Daly, Architect and Engineering Manager (A&E) with Axis Communications, Inc. Axis manufactures network cameras for physical safety and video surveillance.
What are key surveillance solutions that OHS professionals should be looking into? There are five solutions that health and safety professionals should be at least considering, says Daly.
Occupancy management
The first solution is occupancy management. This is a way to measure how many people are coming in and out of a facility and how many are in at a given time. It could also mean tracking metrics of how long they're staying there, "to be able to, for example, maintain a clean and safe facility – which I think is very important in today's environment," says Daly.
Occupancy management has notably been impacted by COVID-19 with regards to the number of people allowed in shops or various other facilities. Instead of having people stationed at store entrances and exits, Daly says that one solution is to install surveillance cameras which can automatically count people coming in and out.
He says that his company (Axis) displays this on a dashboard, which will do a real time count of how many people are in or out. Daly says that some facilities put into place a system akin to a traffic light (red means stop, green means go, etc.). This system is also implementable in facilities or offices, to track how many employees are in the building at any given time.
Read more: Mass notification best practices during COVID-19
Access control
The second is access control, and more specifically low touch access control. Daly says that on this particular topic, the thought process is that there is a greater benefit to having to physically touch fewer things – especially given the current pandemic. This means putting into place automated processes, such as automatic doors for example.
There are a couple of solutions for low touch access control. For example, wave sensors which allow a door to open automatically. This, says Daly, can replace physical buttons in certain situations. He also says that facial recognition is also a recent possibility. This could be used by a company to allow employees access to a building through a camera or mechanism which offers a clear shot of that person's face and then matches it to an employee database, for example.
Read more: Ontario launches new COVID-19 screening tool for school staff, students
Remote communication and public address systems
The third is remote communication. With many people now working from home, we're communicating and interfacing with each other remotely, he says, "we need the ability to properly communicate remotely."
The fourth one is public address systems. This means audio devices which can, for example, be used in washrooms, halls or anywhere as it pertains to health and safety. Currently video surveillance in a public washroom is, in most cases, illegal. However, it is broadly fine to install audio systems which will often play music or various announcements. Daly suggests using audio systems to play automated reminders to, for example, remind users to wash their hands. These speakers would use motion detectors to determine if a person is present.
Another solution in this same vein, is using built in analytics than can detect when something out of the ordinary is happening, he says, for example if someone were to scream very loudly, to get hurt or ask for help. The device will not record what the person is saying, which would raise a host of privacy concerns, it is "strictly looking for acoustical patterns such as glass breaking, gunshots, loud screams, things of that nature that would be out of the ordinary – definitely in the washroom," says Daly.
Live broadcasting
The fifth solution is live broadcasting, meaning "being able to advise people to keep their distance, stay safe, wash hands, and even more," says Daly.
Tech is certainly pushing the conversation forward, and looking beyond 2021 and the (hopefully) end of the pandemic it will be interesting to see how these solutions evolve.
"I think the most important thing I would emphasize here is that the solutions are scalable into the future," says Daly.
Indeed, he says that the solutions you may be putting in place today to handle COVID-19 in the workplace will be able to be used for different purposes after the pandemic.
"Once you've got your systems in place, they can be expanded to do other things," he says. This is something beneficial both for practical and financial reasons.
Gavin Daly is the Architect and Engineering Manager (A&E) at Axis Communications, Inc., providing technical expertise and personalized advice for both internal and external customers. Gavin's industry insight and experience provides value and practical expertise to ensure customers achieve full realization of their surveillance needs while solving technical issues that may prevent obstacles in a project.