As businesses move into a 'new normal', what challenges are they facing and what are the solutions?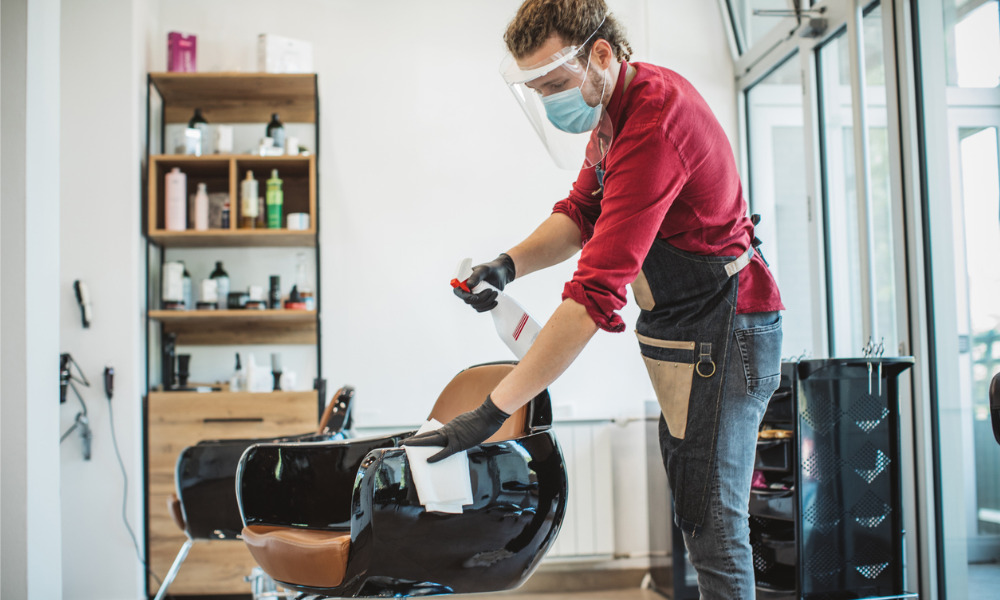 With Stage 3 well underway in Ontario, and phased re-openings taking place around Canada, there are new challenges facing businesses of all sizes. Paul Medeiros, Managing Director of NSF International's North American Consulting & Technical Services (CTS), explains to us what challenges businesses are facing, and what steps can be taken to help ensure safety beyond chemicals and PPE.
What is the biggest challenge facing Canadian businesses now that we have entered Stage 3?
"One thing I heard from our clients early on is that they were receiving a lot of guidance, but what they need is help operationalizing it: taking platitudes out and turning them into a set of protocols." Says Medeiros.
Indeed, though there are many provincial and federal guidelines available for businesses, it may sometimes be hard for businesses to navigate. Furthermore, Medeiros says that the associated costs of additional pandemic-related measures can be quite burdensome – which adds more pressure on companies.
In fact, these financial pressures affect all businesses but especially small or medium-sized operations, who "can be more nimble, but face challenges financially," says Medeiros. Conversely, he says that larger companies may not feel the same pressures on the financial side of things but may potentially be facing operational issues whilst having to implement guidelines on a larger scale.
Another challenge, Medeiros says, is "a large degree of pandemic fatigue." With infection numbers decreasing and Stage 3 allowing for larger gatherings – notably indoors – and the widening of social circles, it may be easy for employees, clients or customers to be less careful about guidelines.
What best practices can businesses and organizations implement?
"The theory is, don't take your foot off the gas," says Medeiros.
First and foremost, focus on the three 'Cs', he explains, "closed spaces, crowded places and close-contact settings."
Another essential topic to look into employee engagement. For Medeiros, the companies getting it right are ones that involve their employees in creating protocols, "to see how they can implement controls as a team." For example, he says that daily huddles, with appropriate physical distancing, at the start of a day or a shift bring employees together – and it is also a great way to get feedback from employees.
Communication is key, and the role of communication within organizations is essential to make employees – and their families – feel safer. Medeiros says that this could be through old fashioned memos, webinars, town halls, etc.
Another thing, he says, is that "a lot of businesses out there need to take advantage of their strong suits." For example, the food industry has been implementing strict controls for years (e.g. to avoid cross-contamination or food-borne diseases). They "need to go back to basics," he says, and "do what they've been doing for the last few years."
Medeiros explains the importance of businesses and governments working together. He also explains that businesses are by and large grateful when government steps in to enforce rules with their customers, "if it's mandated by the city or the state it makes it easier to enforce," Medeiros says. This idea fits more broadly into the expanded role of public policy.
What will the next stages look like? And what about the post-pandemic landscape?
"This is the 'new normal' for the near and mid-term future," says Medeiros.
"Anybody who has looked at the news knows that there are ebbs and flows in areas where they've relaxed their controls," he says. In Canada, we're not sure that this is necessarily something that is going to happen, and it is hard to tell whether there will be a second wave or what that will look like as we start entering the colder months.
There are two sides to safely moving forward: the business side of things and the government side. These two branches work best together. Governments can look into public policy, Medeiros says, such as mandatory mask usage, accessibility to testing, etc. On the other side, businesses can look into systemizing their approach, creating checklists, a core team of people, etc.
Another key idea is that protocols that you've put into place previously will not necessarily work in three months, or in the near future, says Medeiros. Businesses need to be constantly assessing whether their protocols are credible, practical and reasonable – for clients, customers and employees.
Medeiros posits that there will be more tech solutions put in place to prevent employees (and customers) from making mistakes, or tech that will be used as an OHS solution. Lastly, he also says that the role of third-party verification will evolve as well, "I think consumers are going to become pretty savvy", and businesses and organizations will have to become more transparent.
NSF International is a public health and safety organization which develops public health standards and certification programs aimed at protecting the world's food, water, consumer products and environment. Learn more about their Checked by NSF program here.