Green Book 101: Roofing among main contributors to fall accidents on construction projects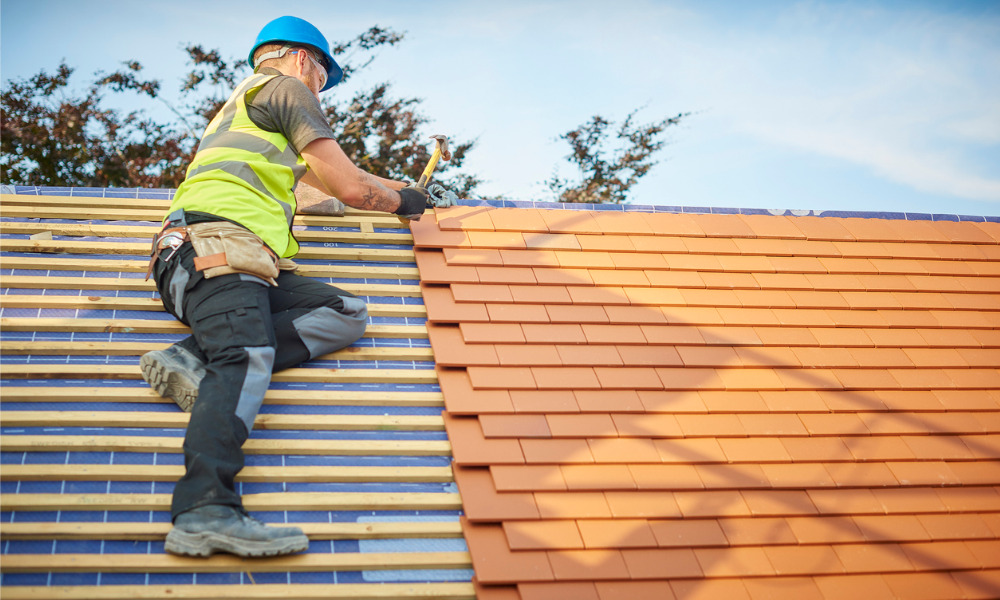 A study done through the Ontario Ministry of Labour which broke down fall hazards from 2009 to 2016 found that roofing and residential building construction are the two main contributors to the amount of fall accidents which occur.
Ontario's Occupational Health and Safety Act regulations around construction projects are extensive, though the section on roofing is relatively brief. Working at heights and fall protection can be complex topics, and it's understandable if employers or workers get a little muddled. However, that's not a good enough excuse.
"Like anything in safety, [safety] starts with the employer and understanding the environment that they're working in – and understanding what situations they're going to be putting their workers in, and then adequately protecting them from those," says Doug Legg, Service and Training Manager, Rubicon Safety.
Training
As per the aforementioned study, the number one factor contributing to accidents was lack of worksite instruction. Ontario requires on-site fall protection which is specific to the equipment that employees will be using. Employers have to instruct their workers on how to use equipment according to the manufacturer's specifications. And all of this needs to be site-specific.
Most people just want to check boxes, says Legg, but frequently workers may require more information beyond a course because situations and equipment are so specific. People need to understand how to use a system like a rope grab, for example, which is the main fall protection tool for a roofer (in a residential site which has a pitched or peak roof). As well as training, Legg says that business owners, supervisors and workers need to be aware of the law and ensure they are putting everything they have to in place, "so that the employers can fulfill their commitments to the workers."
Training is only the first step though, equally important is to make sure the equipment is being used, says Legg. This is an issue among roofers who may not want to wear the proper PPE. He says that rather that look at this as a deliberate choice, he now chooses to treat people as if they don't know the rules – "you have to think that they don't know what they're doing is unsafe, and you can approach that situation with a cool, collected head."
Equipment
Legg says that a question that often comes up when talking about working at heights in general is at what heights is fall protection required – "which is part of the puzzle, but it's not the full scope," he says. Indeed, there are situations in which people require fall protection that in some cases don't even require height.
When it comes to falls, you can fall off of something, you can fall into something and you can fall through something. So this is what you need to consider when putting into place the right kind of physical barrier (such as a guardrail). In some contexts, a guardrail is set up to protect workers from falling. But then again, workers still need to use fall protection to set up the guardrail.
Also, in certain situations barriers have to be placed in the work area. There are different types of barriers. For roofing, there is a system commonly known as a bumped line or a warning line system – this is not a physical barrier per se, it is a warning barrier. This has to be at least two metres from the perimeter of the roof, or two metres from the perimeter of the fall hazard, and has to consist of portable weighted posts supporting a taut chain cable or rope located just over a metre above the roof level.
The system itself is not placed to stop a fall from happening, "it's only meant to act as a warning. So if you get close to that line it's telling you that if you go beyond this line you're exposed to the threat of the fall."
Furthermore, working at heights calls for a broad spectrum of PPE. Roofer's kits for example typically include a removable anchor which is a butterfly or toggle anchor that the roofer can install on the peak of a roof to create an anchor point from the peak which they're going to attach to their lifeline (i.e. a rope which works alongside the lanyard, rope grab and harness). These are the basics, says Legg.
Rescue
Roofing safety isn't just about making sure that things go right, it's also about making sure that plans are in place if things go wrong. Legg says that before the use of any fall arrest or netting system at a project, there must be a written rescue plan in place. For example, if a worker is using a fall arrest system and they become suspended above the ground, you have to have a plan in place to get them off of that system and into a safe area.
"In the context of what a rescue has to look like, there's so many different situations," says Legg.