Musculoskeletal disorders, slips, trips and falls among top concerns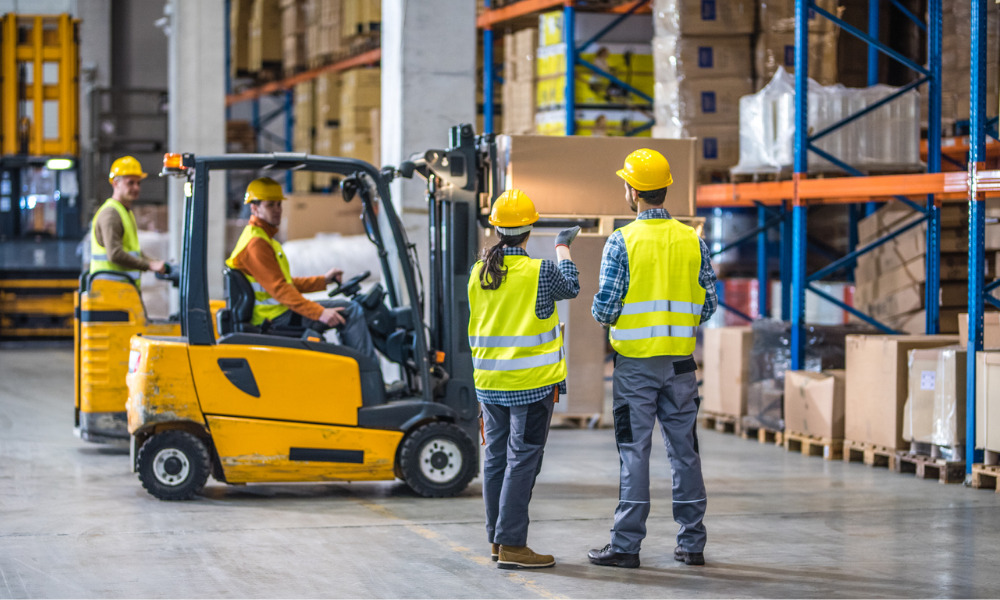 Though specific numbers can be hard to find, it is widely accepted that warehouses as a workplace environment carry a serious number of hazards. There are so many moving parts, and so many different roles that it can be hard to keep track of all the different risks. Here are a few basic tips to help improve warehouse health and safety.
Eliminate potential hazards. Slips, trips and falls are one of the most common injuries among warehouse workers. These often unnecessary accidents occur for a variety of reasons, and safety professionals should be striving to eliminate them as much as possible.
With one of the largest networks of warehouses in the world, Amazon top brass says that musculoskeletal disorders (MSDs) are top of mind when it comes to worker safety. In a previous article on COS, Heather MacDougall, VP – worldwide, workplace health and safety, at Amazon said that MSDs are currently the organization's most common injury, which is why they are keen to put into place programs to help with that. "We always look at how we can design safety into our front end. That's across all teams and embedding safety into all processes," said MacDougall.
Provide proper training to the workers. Training is key to ensuring optimal workplace health and safety. There are a number of different roles and tasks in warehouse settings, such as driving, stacking shelves or packing. As a safety officer, you need to make sure that every worker has received adequate training to prevent any unnecessary workplace accidents.
Mark hazardous zones clearly – and keep the workplace tidy. Many hazardous zones in warehouses don't have to keep with proper upkeep and housekeeping. Things like piles of boxes or loose cables or rope shouldn't be left lying around. For those areas that are truly hazardous, mark them with clear signage on walls and floors.
Wear proper clothing while working. With the amount of different hazards present in warehouses, wearing the right gear is a must. You may need to provide workers with special head protection, hand protection or clothing depending on the tasks – which you can figure out after doing a risk assessment.
Ensure there is ventilation in the work area. Especially with the warmer months upon us, ventilation is key to making sure that workers do not overheat. Depending on what environment they are working in, employees could also be brought in contact with chemicals or particulate matter that may cause harmful exposure if not ventilated properly. Heat-related problems such as heat stress or heat stroke are very real issues.
Always use safety equipment. Safety equipment is there for a reason. With the range of different hazards present in warehouse settings, there are loads of different tools or bits of equipment that workers need to use. Do a refresher course on how to use them, post signage in work spaces or break rooms, remind workers during meetings – communicate in all the ways that you need to.
Assess the weight of a rack and strategize how to assemble properly. Workplace Safety & Prevention Services (WSPS) says on their website that "racking is the backbone of a warehouse and yet many managers and supervisors don't treat it that way." It is important to have the safest approach possible. In addition, the WSPS says on their website that "you should be conducting regular inspections of your racking systems to check for signs of damage like cracked paint, dents and damaged or missing components."
Ensure vehicle safety. WSPS says that loading docks are the entry/exit points to your operations, and as such need to be safe and efficient. For example, the WSPS says on their website that "you should ensure all staff and drivers are aware of your operational procedures and implement them daily for the safe loading, unloading and transportation of materials." With so many comings and goings, it is essentially that workers are on the same page about driving safety.
Ensure there is proper ergonomics in place. As mentioned before, MSDs are a top concern in warehouse settings. With so much movement and heavy lifting in place, it certainly makes sense! Employers and safety officers should ensure that workers have been given proper training, and invest in equipment that is ergonomically optimized.
Have your workers learn proper first aid for emergency. This is not only a suggestion, in many workplaces this is a requirement. All workers should ideally have at least some first aid training, but safety officers need to ensure that the proper number of workers are trained (which changes depending on the size on the organization) in compliance with current regulations.