Colleagues honour Const. Shaelyn Yang who was killed in the line of duty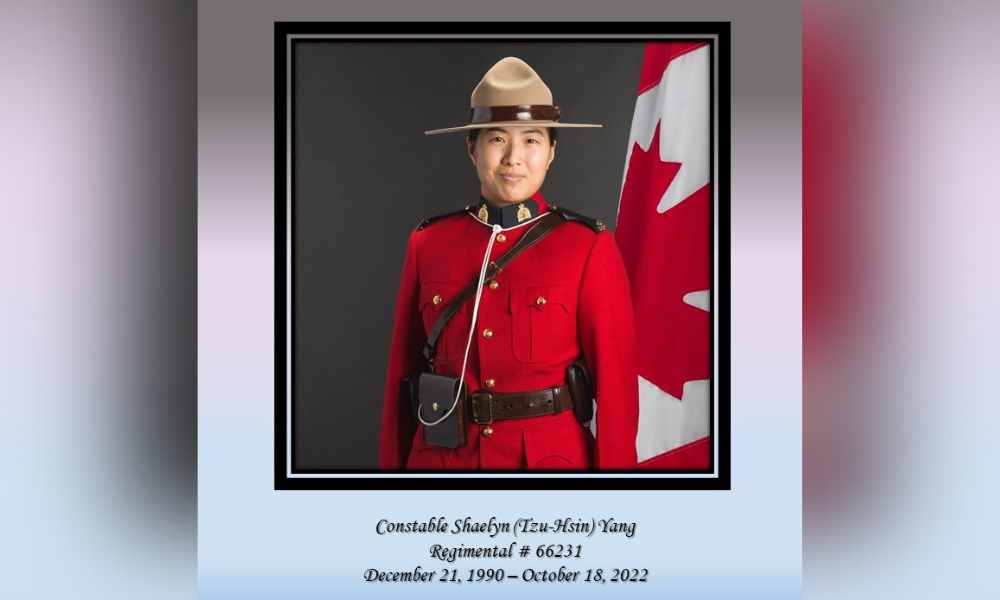 Const. Shaelyn Yang of the British Columbia Royal Canadian Mounted Police (RCMP) has been laid to rest.
Thousands of RCMP and other uniformed officers gathered at the Richmond Olympic Oval during the funeral of fallen Yang on Wednesday, according to The Canadian Press.
As many as 2,000 officers from B.C. and across Canada were joined in the procession by members of the Canada Border Services Agency, the Armed Forces, sheriffs, firefighters and B.C. Ambulance Service, while another 1,500 members would attend the funeral, according to the report citing the RCMP.
Read more: Man charged for killing RCMP officer in B.C. was wanted for assault
Yang died in the line of duty on Oct. 18 when 37-year-old Jongwon Ham allegedly attacked her as she accompanied a Burnaby city parks employee who was giving Ham a notification that he was not permitted to be in the park.
Commissioner Brenda Lucki said Yang was admired and respected for her work, resilience and dedication, according to a TriCity report. She said it was "profoundly tragic" that Yang did not have the opportunity to fulfil her potential within the police service.
"Her victims services colleagues said that if they had a dozen more Shaelyns, they would have the best team ever," said Lucki.
Read more: How safe are police officers at work?
Ham is accused of first-degree murder in Yang's death. On Wednesday he was remanded until November 16th.
Yang's killing was the fifth on-duty death across Canada in about a month, according to the report.
Her death came just days before police were preparing to gather for the funerals of South Simcoe Police Service Const. Morgan Russell and Const. Devon Northrup, who were killed in the line of duty on Oct. 11.
Read more: Eight effective safety tips for police officers
It also came just one month since the murders of Toronto Police Service Const. Andrew Hong, and York Regional Police Service Const. Travis Gillespie.