'Keeping the risk of a second wave of infection low is everyone's responsibility'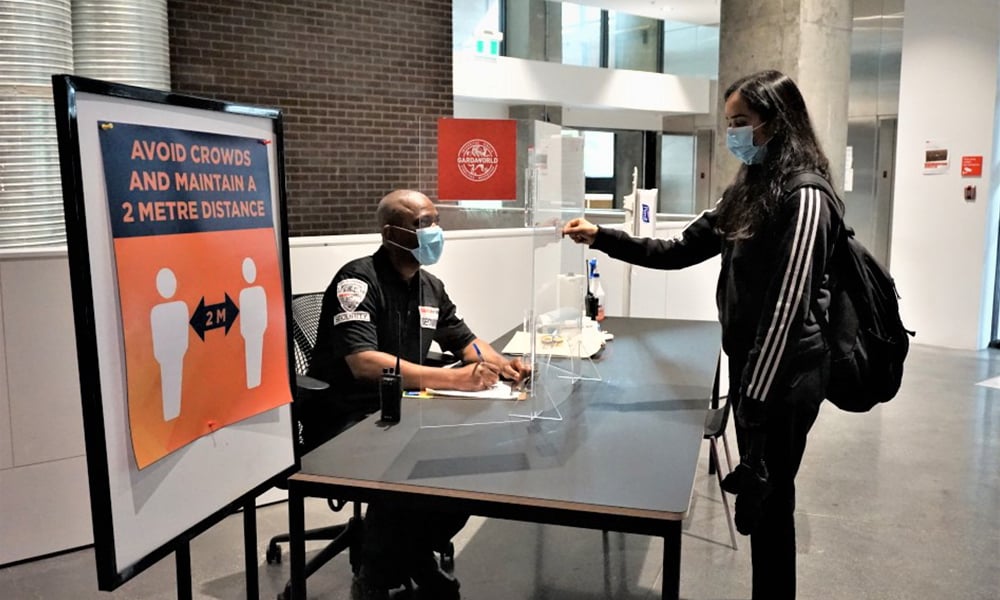 With back to school season right around the corner, Canadians are faced with yet another new chapter in 2020's saga filled with pandemic-related unknowns. GardaWorld Security Services – Canada gathered three valued partners in the education sector to answer trending questions concerning pandemic recovery and response in a campus environment. The multi-provincial panel discussion aimed to raise awareness concerning pandemic principles applicable to a university and prepare for the upcoming fall semester.
Recovering during a global pandemic and building agile response plans
The discussion, moderated by GardaWorld's respected Healthcare Security Specialist, Brine Hamilton, was composed of panel members:
Laura Vajanto, Senior Director, Enterprise Risk and Resilience | Safety and Risk Services, and Chair of the COVID-19 Recovery Management Team at Simon Fraser University in BC;
Christopher Carson, Associate Director, Campus Public Safety (Security Services) | Facilities Management and Ancillary Services at McGill University in QC; and
Glenn DeCaire, Director of Security and Parking Services for McMaster University in ON
In March 2020, these campus representatives and their teams went into pandemic response mode. During this unprecedented time, schools across Canada were dealing with a series of unknowns and rigorously adapting to accommodate new information in a fluid situation. Laura Vajanto opened the discussion and stated:
"As per our pandemic plan, when the World Health Organization back in March announced Global Pandemic, we activated our Emergency Operations Centre (EOC). At first, we were at the response mode like everybody else trying to figure out how to support remote learning, remote work, ensuring that we had all the different measures in place."
Glenn DeCaire also spoke about "the immediate challenges of acquiring sufficient masks, gloves and PPE and then writing the protocols that flow from your pandemic planning" as being "a very significant issue." He went on to describe how vital it became for universities to develop a plan to support students' wellbeing in these times of stress and crisis from, potentially, anywhere in the world.
As the need to receive, process, and communicate information to stakeholders became increasingly imperative between campus stakeholders, experts turned to incorporating technology, coupled with heightened security and support services presence. This contributed to the success of the response and, eventually, the recovery phases. Christopher Carson commented, "With the combination of our security agents at most of the entrances, [..] technology helped enormously to control, monitor, look back [..] and see the trends, and adjust accordingly."
Preparing for a slow and steady transition back to campus this fall
Panel members expressed they had already tested transitioning select areas of the university, such as research, which were unable to operate off-site. The plans are in place to slowly reintroduce students to any face-to-face courses at a limited capacity, and some on a rotation basis, with the rest of learning to be completed online. "Our faculty are now attending the university […] to tape and record their lectures, which will be a part of the online delivery service," stated DeCaire.
It was clear throughout the discussion that all three universities had been hard at work focusing on creating optimal strategies for September and beyond. They discussed small-scale campus events and how student residences and hospitality departments will require adjustments. Moreover, they developed health screening questionnaires, strictly refined their access control protocol and McMaster even made the decision to go 100% cashless. Continuous COVID-19 training was a hot topic as well, in hopes to educate the campus community if/when new pandemic best practices are established.
Keeping the risk of a second wave of infection low is everyone's responsibility
When asked how campus community members can contribute to keeping the risk of the largely anticipated potential second wave of the virus low, the three institutions recommended patience, cooperation, collaboration, and of course, that everyone continue to wash their hands.
"What we're hoping for, for the fall, is we would like to see people exercise patience on campus, so we don't have patients in a hospital," said DeCaire. Carson added:
"We have security agents, Garda agents, at most of our high-traffic buildings, controlling access, making sure people and community members are wearing their masks when they get in, that they've answered the questions, and they know the directions. So, it's really washing hands and following the directives from the University and from the security department."
In the coming months, it will remain crucial that compliant pandemic response efforts come from all angles throughout the campus community. "[We should be] working together, making this happen. It's not a faculty thing, it's not a staff thing, it's not a student thing, it's a community thing. Communication, I think, is key. Communicating regularly, clearly, concisely, as much as possible. Because this is what people are looking for," Carson shares.
"Safety is everybody's responsibility. So, if you see something that's not quite right, or you're not comfortable, say something," urges Vajanto. "We're all in this together. [We need] to make sure that people who have to be on campus are as safe as possible," she adds.
To listen to the panel discussion in its entirety, click here: COVID-19: Back To School Pandemic Response
Need additional pandemic response guidance?
The pandemic continues to generate a demand for fully customizable services adapted to evolving risks and challenges. As a Canadian-founded company with a global footprint, GardaWorld is a trusted partner for educational institutions located coast-to-coast looking to refine their security and business continuity solutions.
With the fall semester fast-approaching, GardaWorld security professionals can support campus community needs in these unprecedented times. Learn more about GardaWorld's pandemic response solutions in Canada here: GardaWorld - Pandemic Response