Report reveals progress being made but serious challenges persist in agriculture industry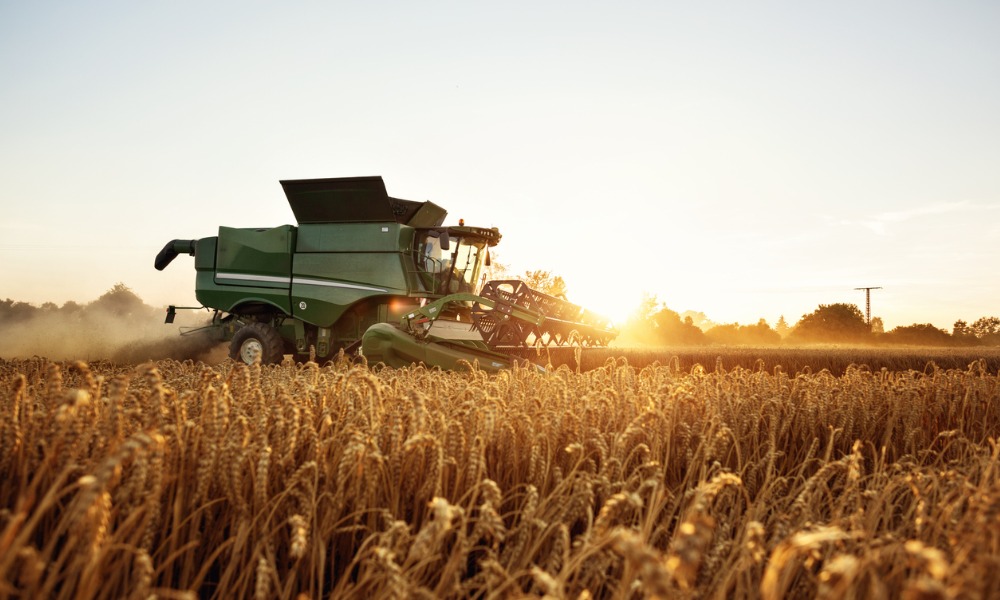 Serious concerns are being raised about deaths and injuries in the Canadian agricultural industry with a recent report painting a complex picture of progress and significant challenges within the sector.
"While we've made progress in reducing farm-related fatalities, the numbers still tell a troubling story. There's more work to be done," says Robin Anderson, the director of programs and communications at the Canadian Agricultural Safety Association (CASA).
The statistics reveal both good news and sobering realities: while deaths on farms or related to farming practices have dropped by an average of 1.4 percent annually from 2011 to 2020, the numbers remain distressingly high.
There were 624 agriculture-related deaths in Canada over the past decade. Of particular concern are two demographic groups: children aged one to four and seniors aged 70 to 79. There were 26 deaths among young children and 124 among the elderly.
Colleen Drul, a representative of the University of Alberta Injury Prevention Centre, shared her insights during a recent online annual meeting of CASA. "There's obviously work to be done to reduce those numbers," Drul was quoted in the Alberta Farmer Express.
Drul draws attention to the vulnerability of children in the bystander runover category, where 12 deaths occurred in the past decade. She underscores the tragic nature of these incidents, explaining that children can end up being run over while on a parent's knee or riding in the scoop of a front-end loader.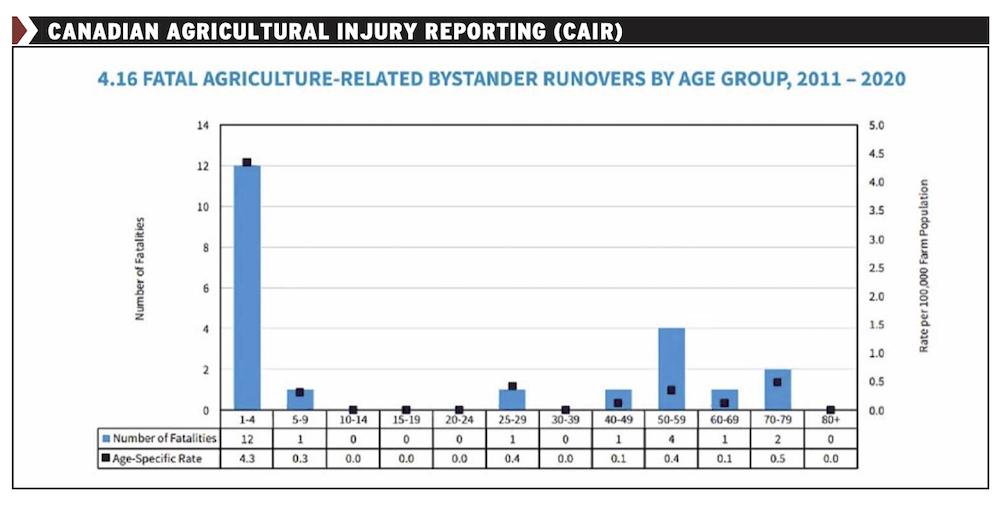 (Source Canadian Agricultural Safety Association)
The figures come from a report that is a product of CASA and the Canadian Agricultural Injury Reporting (CAIR), an integrated national surveillance project established in 1995. CAIR was born out of the need for comprehensive information about fatal injuries and hospitalizations in Canada's agriculture sector.
The main mechanisms of injury behind these fatalities are machinery rollovers, machinery runovers, and entanglements or being caught. Machinery rollovers were a significant cause of fatal agricultural injuries, often occurring when machinery traveled too close to an edge or incline.
From 1990 to 2020, machinery rollovers accounted for a substantial percentage of farm-related deaths, with seasonal variations. Drul explains, "this would be caused by such things as traveling too close to an edge or incline, and it's often the tractor that is the machine involved in the actual rollover."
Machinery runovers were another common cause of death, occurring when individuals were run over by farm equipment, including unmanned tractors and cold starts. The entangled/caught in machinery category also posed risks, especially in the fall when farmers were working with combines and augers.
Addressing the vulnerability of young children, Anderson offers valuable advice. "The best and safest thing is to keep them out of harm's way." She suggests creating safe play areas and providing constant supervision for young children.
Her guidance includes avoiding situations where children could potentially get hurt, such as taking them on tractor rides or letting them ride in risky locations, like a scoop bucket, or in a loader. Anderson understands why farm families want children to be involved at an early age but urges parents and guardians to prioritize the well-being of young ones on farms.
Anderson also shares insights on addressing safety concerns among elderly farmers. She advocates for honest self-assessment and recognition of limitations that come with age. She highlights the importance of adapting to these limitations, whether through succession planning, task accommodations, or changes in work practices.
"It's a lot of introspective thinking and understanding where your value lies and where you want to go," says Anderson. "What do you want your farm legacy to be?" Her words underscore the need for thoughtful planning and adjustment to ensure the safety and sustainability of farms in an aging demographic.
By addressing the vulnerabilities of specific age groups, emphasizing the importance of child safety, and advocating for honest self-assessment among older farmers, Anderson's recommendations offer concrete steps toward a safer future for the Canadian agricultural industry. The numbers may be daunting, but with proactive measures and continuous commitment to safety, progress is not only possible but imperative for the well-being of all involved in farming.