Occupational exposure series: In Sarnia, 'the men are gone and the plants are closed' but resilient widows are still fighting for recognition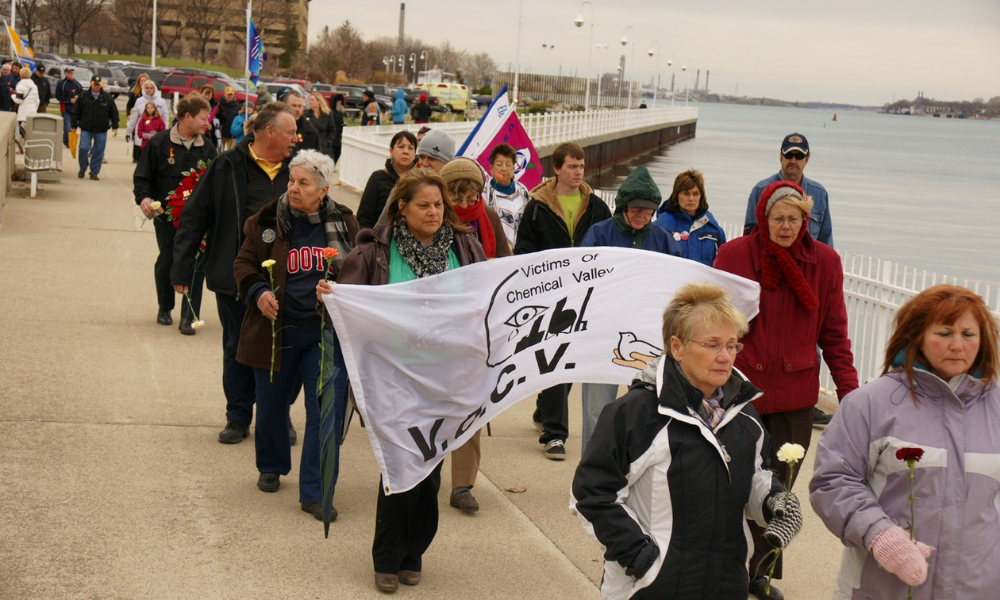 "I've got nothing to lose. I've lost everything," says Jean Simpson.
Simpson's husband worked for decades at a plant in Sarnia, ON. Eventually, like many workers in Sarnia, he developed cancer. Simpson's husband died 25 years ago at Christmas. He was 56 years old.
Before he passed away, the Simpsons filed a WSIB claim. 25 years later, Simpson is still waiting for an answer.
Chemical Valley
In 2011, Sarnia had the highest level of particulate pollution in Canada.
The city is host to Chemical Valley, an industrial complex which has seen dozens of chemical companies over the past few decades. In recent years, a number of plants have shut down.
In 1993, Dr. Jim Brophy, formerly of the Occupational Health Clinics for Workers in Ontario (OHCOW), first went to Sarnia as part of visit by the OHCOW Windsor team.
OHCOW organized at the time monthly clinics for workers and many in Sarnia were being diagnosed with lung cancer and asbestosis.
The sheer numbers became a point of concern for Brophy, and he and his partner Dr. Margaret Keith eventually moved to Sarnia to open up a permanent clinic.
Jean Simpson and Margaret Buist – whose husbands had worked at Imperial Oil – were among the driving forces behind getting a permanent occupational clinic opened in Sarnia.
"Jean and her husband were very inspirational in getting the occupational clinic here in town," says advocate Sandy Kinart.
Dr. Keith and Dr. Brophy worked with a number of groups, including labour unions and community groups, to collect medical data and help workers from the Holmes Foundry and their families with their compensation claims.
This research helped strengthen interest in the Sarnia cluster – and both continued to run intake clinics, notably a compensation intake clinic in 1998, for the next few years.
Buist and Simpson founded Victims of Chemical Valley in 1998, a group for the support of workers, their widows and their families going through cancer and trying to get their claims through.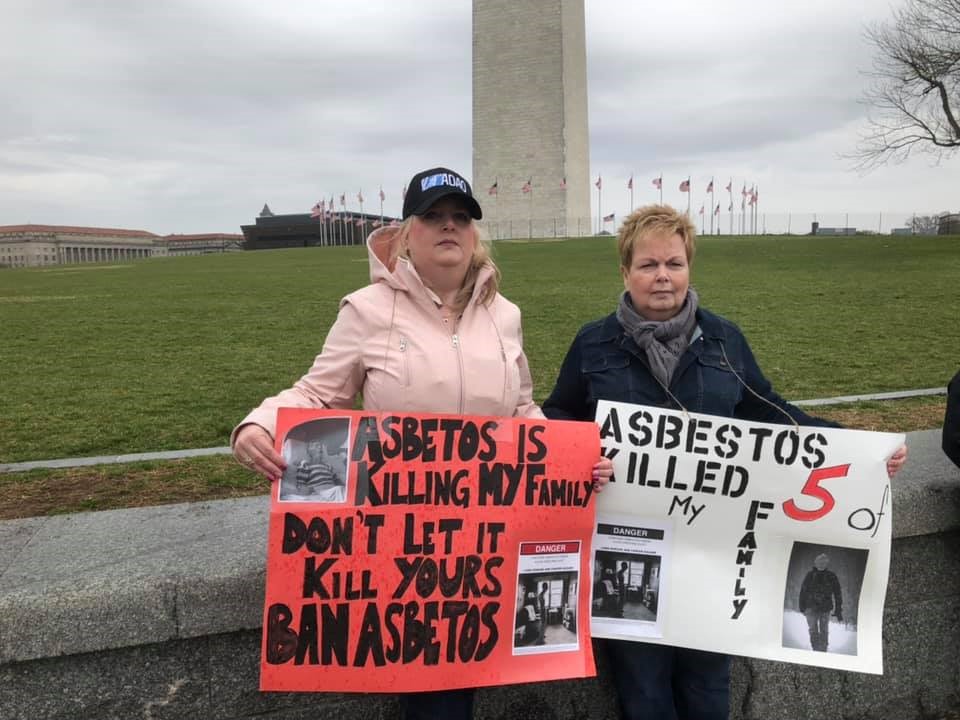 Sandy and her daughter in Washington
An opaque system
Kinart was shocked at how difficult the compensation was to navigate. Her husband – Blayne – worked for Welland Chemical in Sarnia; he passed away 17 years ago of mesothelioma.
"I worked in community health, and I became extremely frustrated with this system that was failing to function.
I was shocked, I thought at least I worked in a place where I was going to get answers. And that wasn't happening," she says. "I realized there's something bad going on in this town."
"The system should be coming to the workers to help them, not them trying to figure the system out. That's not how healthcare should be working," says Kinart. "I made it my mission of making all these doors start to open for people, injured workers or windows, trying to find an answer."
Simpson and her husband helped the Kinarts make their WSIB claim. Simpson says that she lobbied to get the clinic started because of the lack of discourse around occupational exposures at the time.
"I bought the idea out because Sarnia was a very closed-mouth place. You didn't say that there was somebody sick from one of the plants. And I brought that out into the open."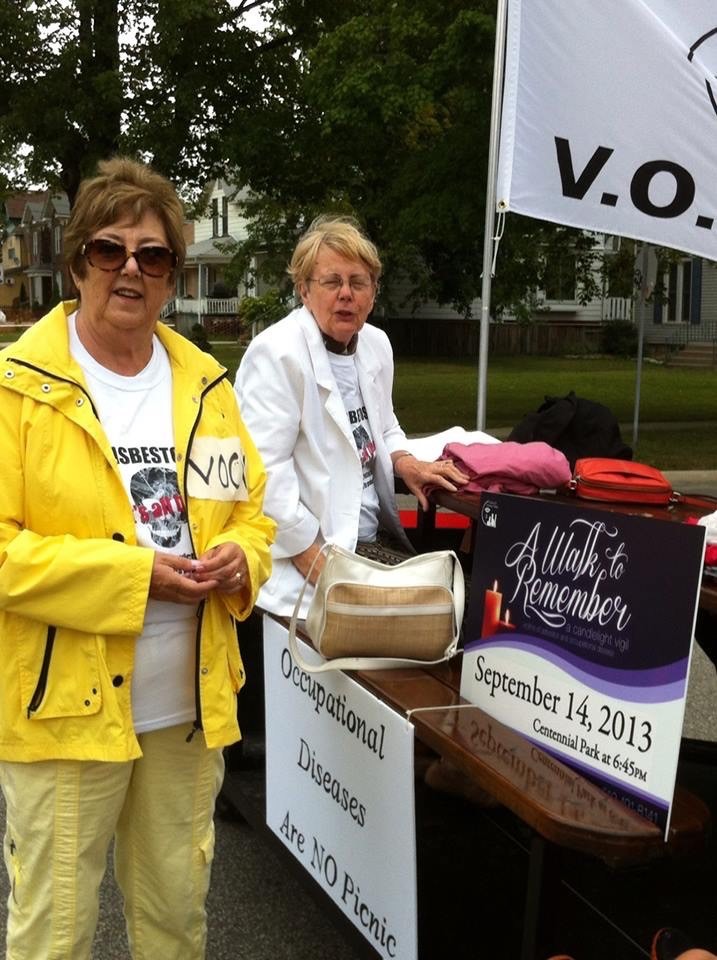 Margaret Buist and Martha Fracalanza on Labour Day
Back then, the city was run by the plants. "You worked at the plants, and you kept your mouth shut, and you had a job. But it just went on and on, and we kept fighting them. I've been threatened. My family has been threatened. And I still keep going," says Simpson.
"Men were sick, they dropped dead. My husband would say, you could drop dead at your machine and before they dragged you away somebody would step over you and do your job."
A 'laundry list' of diseases
Due to the sheer range of exposures, and the lack of information on cumulative exposures, it's hard to estimate how many workers were and still are sick, how many have died due to occupational exposures, and which diseases are most prevalent.
What Kinart says is that in Sarnia, diseases that are considered very rare are actually very common.
"A lot of the cancers that we're seeing here in Sarnia are lungs, nasal, pharyngeal, kidney and bowel. There are also cases of glioblastomas and all types of lymphomas, as well as Parkinson's disease," says Kinart.
"It's a laundry list of diseases."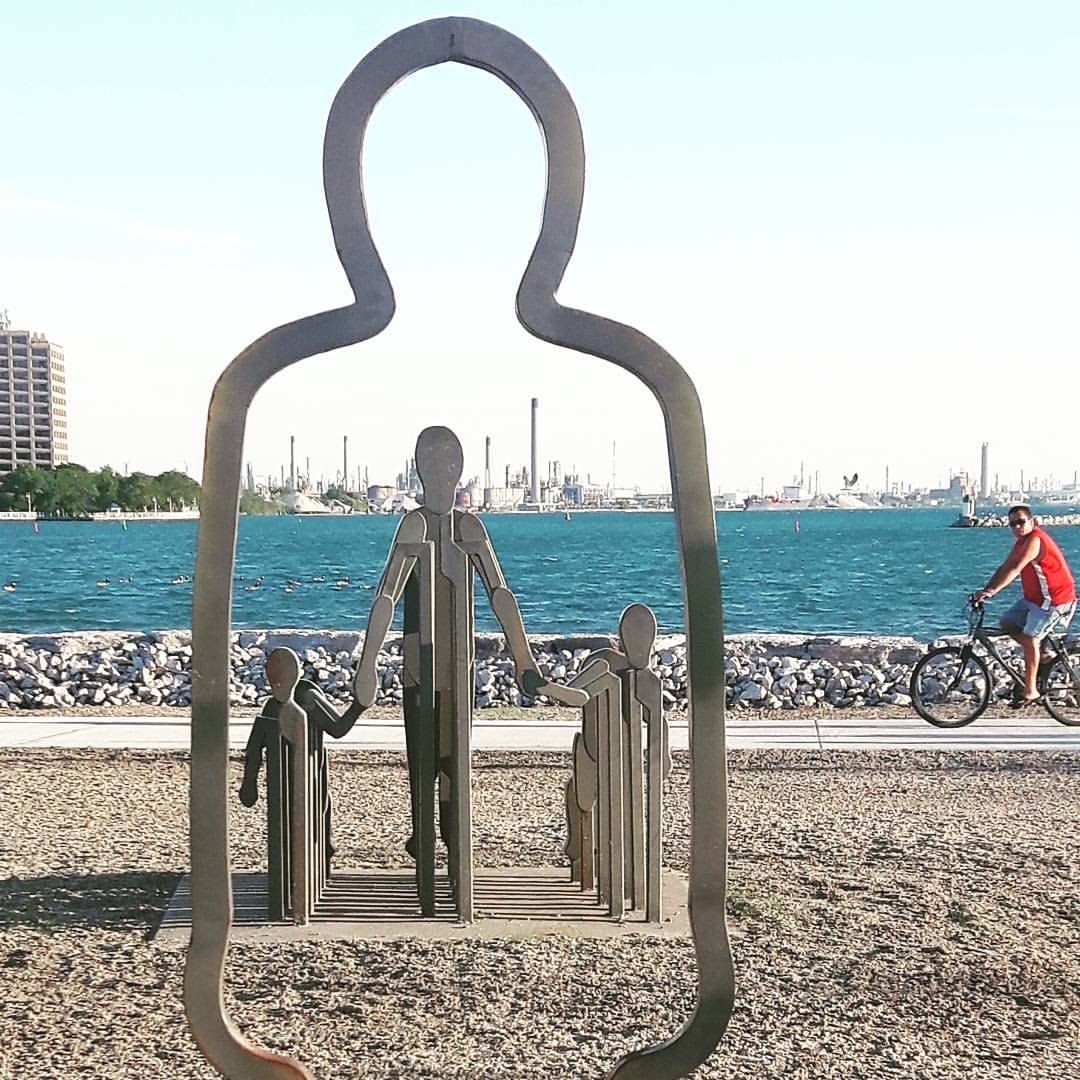 Sarnia victims' memorial
And it's not just one company that is responsible, "we can't just target one industry because it's everywhere in this community," says Kinart. "It's just everywhere."
From fiberglass to foundries, "anyone who worked [at these companies] is essentially at risk," says Kinart. "People in offices can't even fathom how disgusting and dirty these places were."
And though health and safety regulations have cleaned up a lot of these workplaces, they're not free of these chemicals.
As with many of the clusters we've presented throughout the series, one of the biggest issues remains the latency of the diseases.
"These are all legacy issues," says Kinart. "If I went into a plant today, and I had this massive exposure to benzene, that's not something that hits me in the head and leaves a mark."
And it's hard to track years later when dates are needed to file claims.
"10 or 20 years later, when the disease starts to show itself, you hardly remember what happened on that particular day, do you? Because it was just one of your regular days at work."
"People just kind of accept that that's what they're working in, but because there's no sign that you've been harmed in any way, you don't think about that until it's much too late," says Kinart.
And even if workers do realize, they will most likely continue working because they have to provide for their families.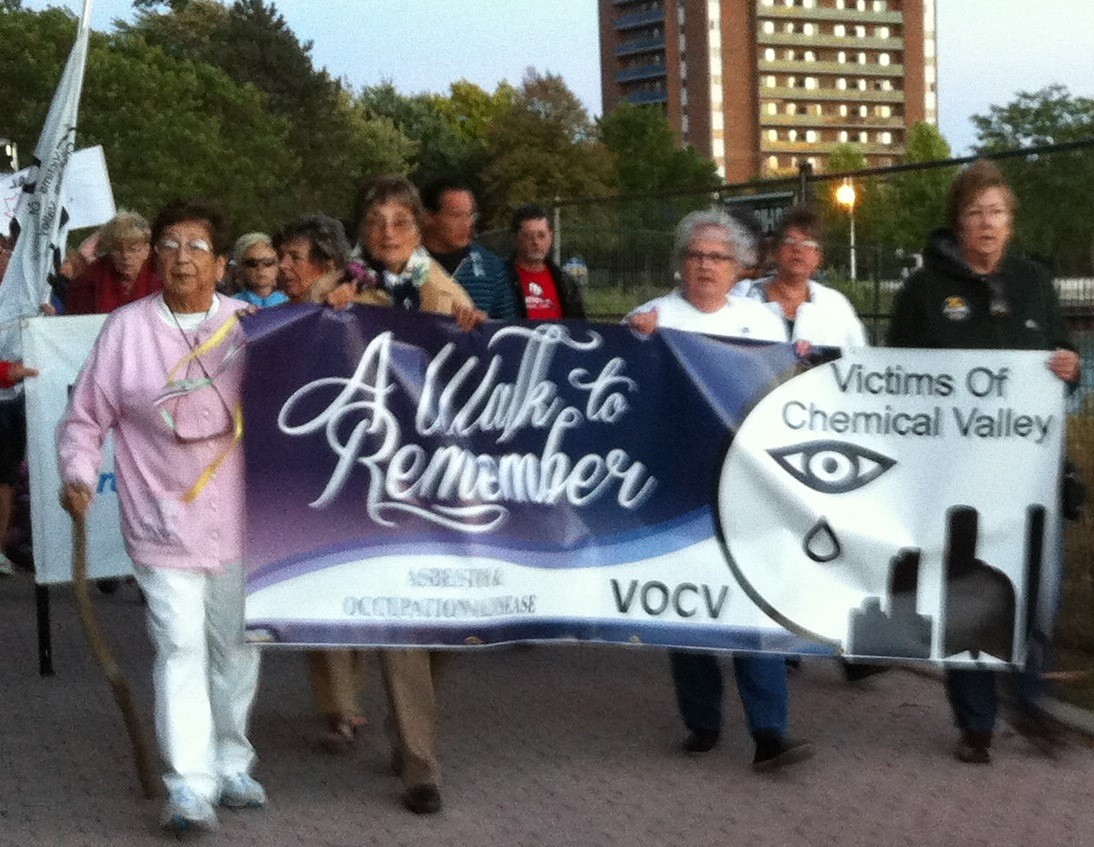 Says Kinart: "Workers got to have jobs – that was a good thing – but I don't think workers ever realized that they were paying with their lives. It was always the feeling that the employer would never make them work in something that was going to harm – or knowingly harm – them."
Now, workers are being told that these exposures didn't happen.
"But it did happen, you can't have this many people in the community come up with an occupational disease and have it not happen."
Workers were – and are – exposed to multiple substances, but there is still little research being done into the effects of cumulative exposures.
Sarnia's widows
Sadly, many of Sarnia's workers have died – and their widows are now dying too. "There's no justice," says Kinart.
Widows are also facing major hurdles to making their claims, having to come up with large amounts of paperwork that they may not have, or that didn't exist in the first place.
Some of the widows don't even know where their husbands worked, says Simpson. And if they do, some don't know what type of job they did, making claims harder.
When widows are trying to make these claims, they are often being asked for information from 10 or 20 years ago.
"They often don't have that information – they weren't in the plant working with their husband. They don't know who was working in the same area, they don't know what the exposures were," says Kinart. "So when they're trying to answer these questions from the WSIB, there is no answer that they can always provide for them."
These widows are at great disadvantage of what they able to come up with them they're trying to fight for these claims, says Kinart. The burden of proof is so high – especially as many of these plants have closed.
And if you don't have the answers, then you don't get your claim, she says.
It's not about the money for these widows, says Kinart. It's about recognition.
"You don't get rich going after the WSIB, what you get is a lot of heartache, and a lot of pain. And you get a few dollars at the end of the day. It's not a lot of money, not the way people perceive it.
"You ask any widow what she wants, she'll tell you 'I want my husband. We should be retiring together; we should be living our best life'," says Kinart.
Simpson and many of Sarnia's other widows have been waiting years for their claims. In the meantime, things have been rough financially.
"We've lost our houses. We're in apartments, and a lot of us trying to get help to pay for our apartments."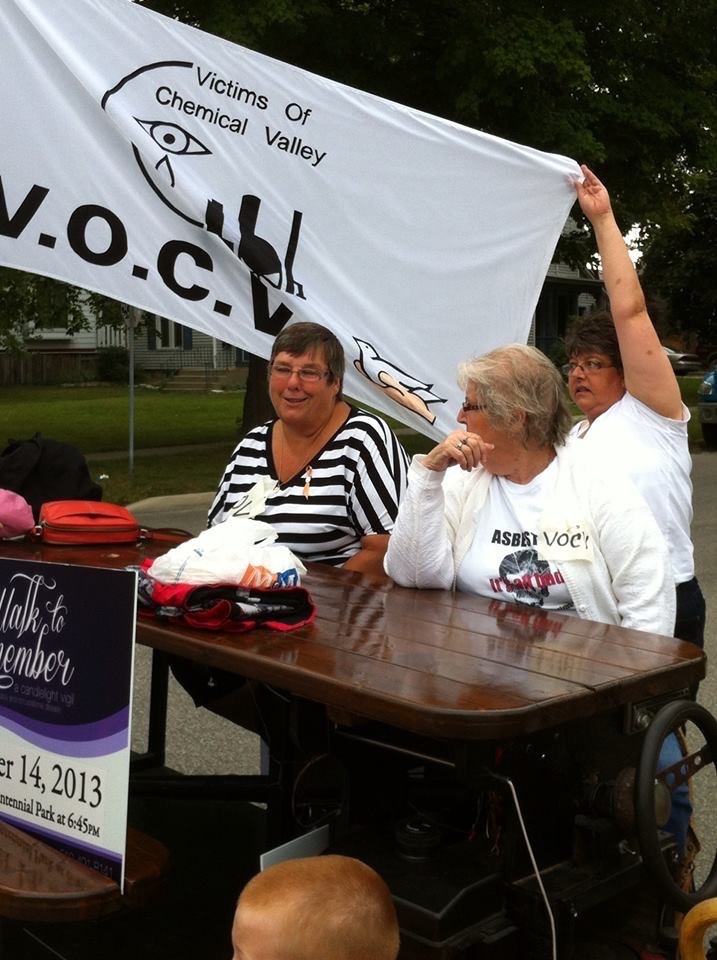 Cheryl & Jean Simpson on Labour Day
Her husband was ill for 10 years before he passed away. Most of that time was filled with different treatments. Simpson barely had any time to visit her mother, who was in a nursing home.
"We were young when we had our children, thinking that when we got older we would still be able to travel the world and the kids would be raised. But no."
Now, Simpson herself is getting ill.
"I've been sick this last year on and off," she says. "Now it's my turn."
Recognition
Unions have always pushed for better health and safety within the plants, says Kinart.
And certainly nowadays, there are health and safety standards that have to be met. Nevertheless, exposures take time.
"If you have the exposure today, you're not sick tomorrow – these exposures take a latency period of 10 or more years to happen. And these workers go to work to earn some money to have income for their families. They didn't go to work to pay for it with their lives. That's not what one expects when one takes a job," says Kinart.
Kinart wants to see recognition for these workers and their families.
"We can't fix what happened in the past, we can't make that all go away. It's there. But we can make it easier for the families and the widows, the workers.
"We also want, when something happens, to at least have acknowledgement and give these workers some compensation – because some have families. Paying for your job with your life is not ideal."
Occupational diseases have devastated the local community:
"I've had five members of my family and my husband's family die from mesothelioma. And there have been other cancers that people have passed away from. And I'm just one family – it's not just me, it's many other families too," says Kinart. "We're a family of widows now."
"We're not trying to shut these industries down; we're trying to make them safer," she says. "For the workforce, the expectation is that we do better, and then when people are affected by these things, that they're not beating their head at the door of the WSIB."
In 2021, Victims of Chemical Valley came together with the Occupational Disease Reform Alliance (ODRA).
"By coming together with [ODRA], we have a bigger voice, hopefully to drive change," says Kinart.
No end in sight
But decades of deaths have made workers and their families pessimistic.
"The men are gone, the plants are closed," says Simpson.
There's a quiet acceptance of 'it might be my turn next' that has crept into the town, says Kinart. "The quiet acceptant of someday, this occupational disease it going to knock on my door. When is it my turn?"
At funerals, workers can't look the widows in the face – because they think "I worked with your husband. And I don't know when it's going to be my turn next. And it could be my wife standing here shaking somebody's hand."
Simpson has been waiting for so long, she no longer believes in the system. She has been waiting for 25 years for recognition – let alone compensation – and it still hasn't come.
"It's nothing but garbage, you can't believe nothing. I have no use for government anymore. "All these other men are dying or dead. All [my husband's] friends are gone. And it makes me sick."
"I've been at so many interviews, I've been with so many people writing books, and nothing ever comes out," says Jean Simpson. She has been on television, she has been to Queen's Park to raise awareness – "but still, nothing."
Simpson says that she'll probably be dead before the claim is processed. But she has eight children, three of whom are interested in continuing the fight.
"Before I pass, I don't see a conclusion to it," says Simpson. "it's mental cruelty."
Over the last two decades, Simpson says that she has continuously received assurances that her claim will be processed, but she is still waiting:
"How does it take 25 years to go through 50 pages?"
The WSIB has responded to the claims and said:
"For privacy reasons, we cannot provide detailed information on Mrs. Simpson's claim, the several appeals decisions she has received or whether she has proceeded to the independent Workplace Safety and Insurance Appeals Tribunal (WSIAT).
The WSIB is here to help and wants everyone to receive the compensation they are entitled to. For almost 20 years, the WSIB worked closely with the Sarnia/Lambton community and stakeholders to provide support to people who became ill at work and their families.
We participated in working groups with Occupational Health Clinics for Ontario Workers Inc. (OHCOW), the Office of the Worker Adviser (OWA) and Unifor (CAW/CEP) to help identify issues and address concerns. To facilitate the filing of claims and provide information, we also had a Sarnia liaison office from 1999 to 2016 to provide a WSIB presence and support to the community.
When we look at any claim, we have to rely on the best scientific evidence available as well as information about all of the person's illnesses, workplace exposures and other relevant factors. It's always the WSIB's responsibility to gather all of the relevant information to determine whether someone's illness is work-related. In some cases, evidence linking a person's workplace exposures to the development of a disease does not exist.
We make decisions as quickly as possible with the best information we have available to us at the time. If new information becomes available, a reconsideration of a decision can be requested. Following that, if someone disagrees with a decision, they may appeal through a two level appeals process, which includes WSIAT."
This is the tenth part of our series on occupational exposures. Over the coming weeks, COS will continue to shine a spotlight on the issue and speak with occupational disease advocates about the dangers of workplace exposures.
Here are the first (miners exposed to aluminium dust), second (exposures at GE plant in Peterborough), third (exposures at Neelon Casting), fourth (Pebra/Ventra Plastics exposures), fifth (interview with Dr. Paul Demers), sixth (WSIB criticism), seventh (WSIB response), eighth (mill worker exposures), and ninth (rubber workers) parts of the series.