Many not getting the right treatment, says report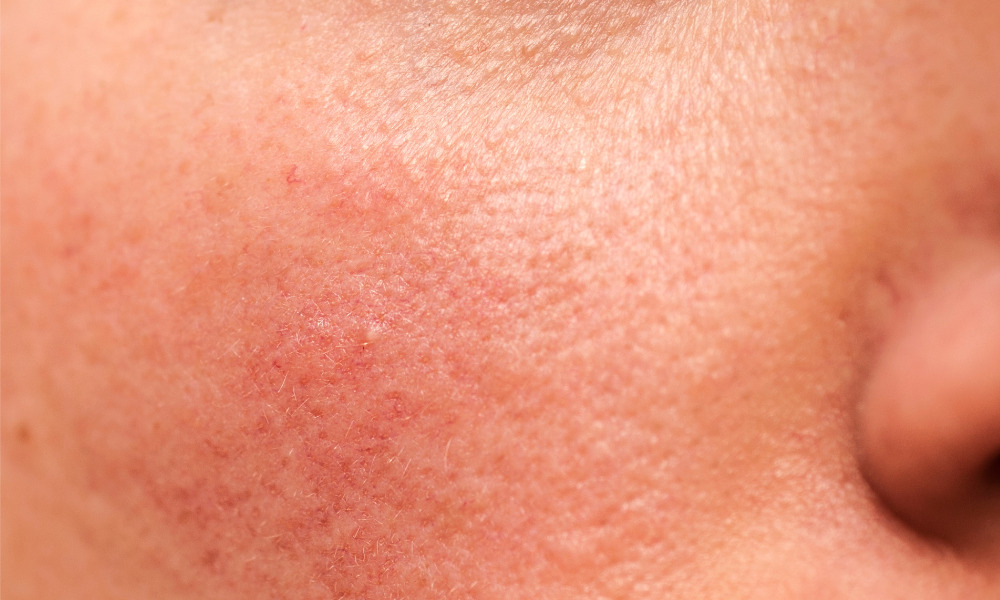 While the wearing of masks is essential in the fight against COVID-19, it can be detrimental to those who are afflicted with rosacea, a common inflammatory skin condition that presents flushing, persistent erythema on the face.
Almost two-thirds (63 per cent) of rosacea patients are experiencing worsening of their symptoms related to mask-wearing, according to a report from dermatology company Galderma.
Those who report worsening of their condition experience redness (75 per cent), pimples and/or pustules (72 per cent) and more flare-ups (53 per cent).
Solutions
Despite this, 52 per cent admitted using a mask as a way to hide their condition, found the survey of 220 respondents from Canada and Germany.
Meanwhile, 40 per cent are not going out as often to avoid wearing a mask while 30 per cent are spending more time on their skincare routine.
"During the current pandemic, self-medication and inadequate use of prescribed rosacea treatments are concerning. Many rosacea sufferers are hiding their rosacea under a mask to reduce embarrassment. This could however also be worsening their rosacea," said Prof. Dr. Jerry Tan, adjunct professor at Western University in Ontario. "If you are suffering from rosacea, do not be afraid to book an appointment with your HCP via phone, video or in-person if possible. It is important to adhere to prescribed treatments and seek professional support if you are experiencing worsening of signs and symptoms because of mask-wearing."
READ MORE: 10 Canadian brands making face masks to support
Nearly half (48 per cent) of respondents have changed how they manage their condition since wearing a mask, with 51 per cent trying a non-prescription product to cure their rosacea. However, only 33 per cent have visited a healthcare provider to consult about their condition in person since the pandemic began; eight per cent had a video consultation.
"With just a third of rosacea sufferers surveyed booking an appointment with their HCP during the pandemic, there is a huge cause for concern," said Aliene Noda, global medical franchise lead for rosacea and onco-dermatology at Galderma. "Our survey suggests that more patients may be self-treating which could mean they are using products that are not specifically tailored for their skin disease and this could, ultimately, do more harm than good."
Among those who have not booked an appointment with their doctor, 47 per cent have not wanted to book an appointment while 21 per cent have been unable to book one.
Seeking help
According to WebMD, people who know or think that they have rosacea should seek out a doctor if:
You have just developed symptoms
You have developed bumps, pimples, or visible blood vessels
Your rosacea symptoms are causing you anxiety or embarrassment

Almost two-thirds (63 per cent) of rosacea patients are experiencing worsening of their symptoms related to mask-wearing.

Your eyes are affected
Your nose is swollen and red
Previously, Alberta, British Columbia, Ontario and other provinces and jurisdictions in Canada and other parts of the world have required the use of face masks or coverings in different settings amid the COVID-19 pandemic.