Whether mandated or recommended, face masks are now a key bit of PPE in Canadian workplaces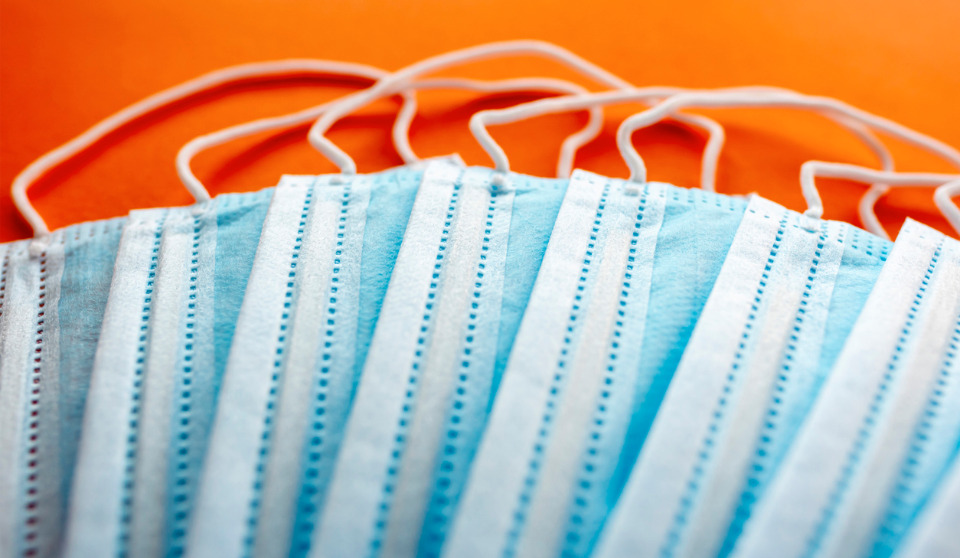 Since the start of the pandemic, face masks or coverings have been recommended in Canada and throughout the world to limit the spread of COVID-19. Face masks are largely mandated in indoor settings such as shops, restaurants, or public transportation. They are also recommended in settings where it's hard or not possible to maintain physical distancing with others.
The Canadian government offers advice on how to correctly put on a face mask or covering.
With mask shortages still being an issue for many Canadian workers, there are also questions around who should be wearing what. Workers in healthcare settings need different protections to those working in offices or on construction sites. Different face masks suit different needs – and can also depend on user preference.
It is also important to note that when possible, face coverings should be used in conjunction with other key pieces of PPE such a gloves and eye protection for optimal protection.
1. Face shield. According to an article in Edmonton's City News, Ontario-based company The Canadian Shield donated thousands of face shields to Alberta teachers in August. On Twitter, The Canadian Shield said: "From ed-tech to PPE, we wouldn't be where we are today without the support of Canadian school boards, teachers and educators. That's why we're donating 750,000 face shields to Ministries of Education across the country to protect teachers and students."
These face shields are made up of a transparent plastic visor which covers the face and allows for better communication as the user's mouth is not covered.
This key bit of PPE has been widely adopted by teachers and educators around North America. Nevertheless, in an article on Healthline, Dr. Joy Henningsen of the University of Alabama at Birmingham School of Medicine says that though face shields are a good supplement to other face coverings, they should be supplemented with a face covering as potentially virus-carrying droplets can still be inhaled through open areas around the visor.
2. Transparent mask/mask with a clear panel. Becoming more and more available, these masks are especially lauded for those who are hard of hearing or deaf and, for example, need to lip read. The Canadian Hard of Hearing Association (CHHA) issued a statement in August saying that they had partnered with the Como Foundation, which designs and manufactures clear masks.
"We want to highlight that these masks benefit everyone and encourage those in certain healthcare, retail and other services to promote the practice of wearing clear masks as a standard universal approach." Said Marilyn Kingdon, president, and chair of the CHHA national board of directors.
This sentiment was echoed by the United Nations (UN) who said that "wearing a mask can prove very challenging for those who are deaf and hard of hearing, as they are unable to read the lips or see the faces of the people they are talking to."
According to the World Health Organization (WHO), 5 per cent of the world's population has disabling hearing loss. More broadly, these masks, like face shields, offer an enhanced level of communication that may be valuable even for people who do not face these issues – this can be necessary in educational settings for example. Indeed, clear masks may replace face shields among current wearers of that piece of PPE as they offer the benefits of a face covering whilst also enhancing communication.
3. Medical/surgical mask. These masks are commercially available to most Canadians and are sold at varying price points throughout the country. One of the more accessible iterations of the face mask, these are especially helpful for workers who need to change their masks on a daily basis – for example, workers in customer-facing jobs such as in bars/restaurants, grocery stores, public transportation, etc. Workers on construction sites or manufacturing plants – which can be more densely packed despite current physical distancing guidelines – also need to wear masks. Workers in these settings may also use (and prefer) cloth masks, though surgical masks are often (not always) cheaper and do not need to be washed as they will be discarded after use.
It is important to note that though surgical masks are now widely available to most Canadians, the Public Health Agency of Canada does state that medical/surgical masks must be kept for healthcare workers and those in contact with COVID-19 patients.
These masks are intended for single use and are often available in bulk. The U.S. Food and Drug Administration (FDA) states on their website that "surgical masks are not intended to be used more than once. If your mask is damaged or soiled, or if breathing through the mask becomes difficult, you should remove the face mask, discard it safely, and replace it with a new one. To safely discard your mask, place it in a plastic bag and put it in the trash. Wash your hands after handling the used mask."
4. Cloth mask. These are similar in use and design to surgical masks, though are made from a different material and can be washed for re-use. Cloth masks have the advantage of being potentially more adjustable to the user's face – as surgical masks usually come in just one size. Cloth masks come in different shapes such as a cone/shell design or a pleated design. Cloth masks can feature adjustable straps or mouldable nose wires for a better, more comfortable fit.
Another added advantage of cloth masks is that they are more environmentally friendly as they are re-usable. Indeed, according to a recent post shared by Greenpeace, the increased use of disposable (and discarded) face masks may be taking a toll on the environment as public health concerns supersede ecological ones.
This iteration of the face mask may be best suited to those working from home, who may not need to use a face covering as frequently. These are also largely in use by workers in customer/client-facing jobs, as with surgical masks. Other cloth coverings exist (such as bandanas, scarves) though cloth masks may be preferred.
It should be noted that not all cloth masks are made equally. Based on scientific research, certain types of materials used for cloth masks may not be effective or suitable to help prevent the spread of the virus. Furthermore, there is no mechanism in place for cloth masks to be evaluated for their effectiveness. Consumers should proceed with caution when looking to purchase these masks. In addition, the effectiveness of the mask depends on proper wear and handling of the mask.
5. Medical N95 respirator. Shortages of N95 respirators have been a massive concern for countries around the world, with healthcare workers continuing to face issues around the lack of this essential bit of PPE. This is why N95 respirators are largely reserved for healthcare workers and should not be used by the general public who, as we have seen, have a host of other options available to them.
These masks offer a high level of respiratory protection and are essential for workers who may be in continued contact with COVID-19 afflicted patients, or those who are at a higher risk of contracting the virus. The Public Health Agency of Canada recommends the use of N95 respirators and surgical masks for healthcare workers.
Medical N95 respirators are different from Industrial N95 respirators (which protect from dust, fumes, hazardous aerosols, etc.). N95 respirators need to be certified by the National Institute for Health and Safety (NIOSH). They are intended for single use, though the Canadian government is looking into ways to sanitize and re-use this key bit of PPE.
The N95 is not the only respirator on the market, but they have become the most well-known during this pandemic. In August, The federal and Ontario governments said that they will invest $23.33 million each to help 3M Canada expand a manufacturing facility for N95 respirators in Brockville, Ont. that will provide 50 million N95 respirators annually for health care workers, first responders and other essential workers. Health Canada issued a warning in April about fraudulent and uncertified N95 respirators, and companies such as 3M have filed legal actions against alleged fraud and counterfeiting.
In May, Health Canada issued a recall of KN95 respirators made by various Chinese companies as they did not meet adequate filtration specifications. These masks should not be used in healthcare settings.
This article was updated on October 22, 2020.