U.S. study reveals percentage of workers who have taken their own life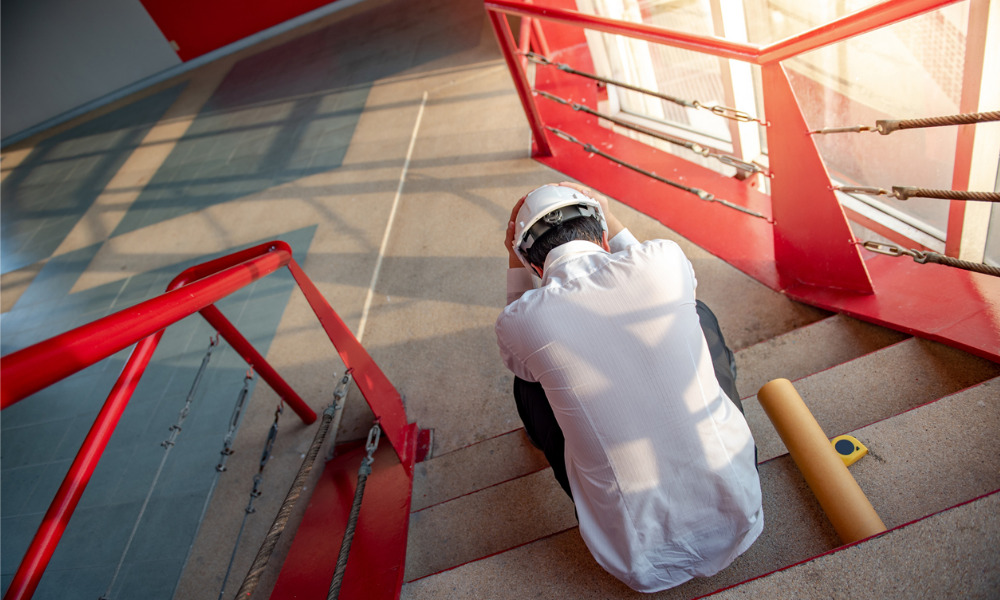 A couple of groups in the United States are teaming up to address mental health and suicide problems throughout the construction industry.
The Associated Builders and Contractors (ABC) and the American Foundation for Suicide Prevention (AFSP) are partnering to educate workers and employers on suicide prevention, reported ConstructConnect.
Under the partnership, ABC will provide construction workers and employers with educational resources on mental health and suicide prevention, including the Suicide Prevention Lifeline call centre, the Crisis Text Line, toolbox talks and speakers who can provide in-person, recorded and online education on suicide awareness and prevention.
"Construction work is noble, and every person in the industry matters and is worthy of resources and investment," said Greg Sizemore, vice-president of health, safety, environment and workforce development at ABC. "Every suicide is preventable, and we have the ability to reduce suicide in our industry.
"Safety is not just about recordable incidents, but includes total human health – emotional, social, mental, intellectual, financial, occupational and spiritual wellness."
While 54 per cent say they have access to an employee benefits plan, just 36 per cent report having access to a plan that includes coverage for mental health supports, according to a previous report commissioned by the Ontario Association of Social Workers (OASW).
ABC will also participate in key events where the issue is addressed.
The American construction industry has a suicide rate of 53.3 per 100,000 workers aged 16 to 64, just behind ining and oil and gas extraction, according to the report, citing data from the Centres for Disease Control and Prevention (CDC).
The rate of taking one's own life is 49.4 per 100,000 among men and 25.5 per 100,000 among women.
The rate for men jumped from 43.6 deaths for every 100,000 workers in 2012, but has dropped from 53.2 deaths per 100,000 in 2015.
In Canada, Ontario construction workers accounted for a huge share of opioid toxicity deaths in the province, according to a recent report. Specifically, a total of 428 opioid toxicity deaths among individuals who had a history of employment in the construction industry from July 2017 to the end of 2020 in Ontario.
In the first 10 months of the pandemic, 30 per cent of employed Ontarians who died from overdose worked in construction — the highest proportion of any industry, according to a Toronto Star report.
Earlier this year, Ontario announced it is looking to mandate naloxone kits in high-risk workplaces as part of its Working for Workers Act, 2022.