'It's time we heal the healers'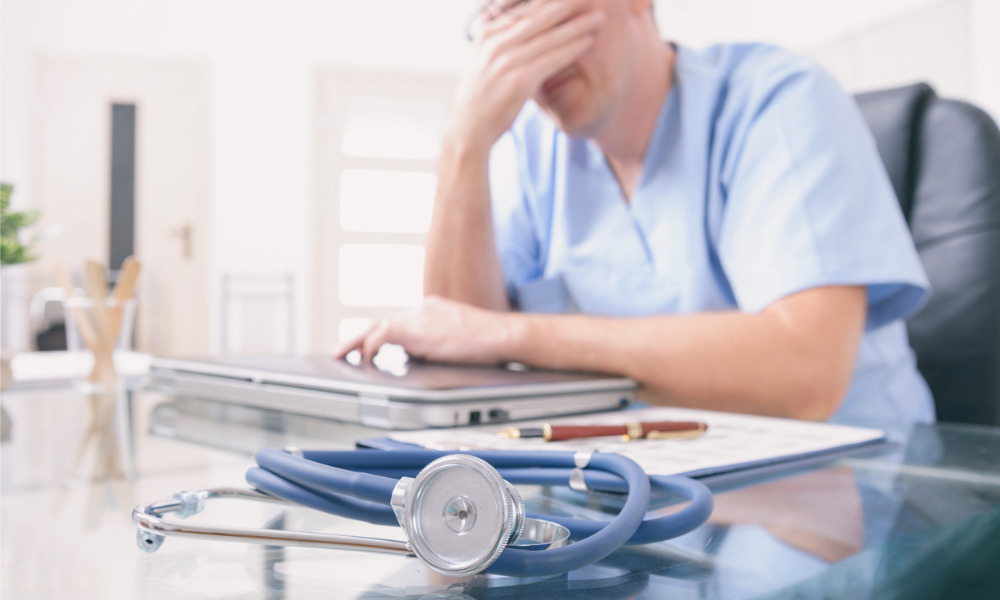 Physicians themselves are in need of mental health support, especially during the COVID-19 pandemic.
Nine per cent of doctors have had suicidal thoughts but have never attempted to take their own life while about one per cent have attempted suicide, according to a report from Medscape.
The incidents of suicidal thoughts had dropped from the 14 per cent recorded in Medscape's 2019 National Physician Burnout, but the number of those who have tried taking their own life have held steady.
Meanwhile, another four per cent of doctors preferred not to answer when asked if they ever felt suicidal or have tried committing suicide, found the latest survey of 13,069 U.S. physicians across 29 specialties conducted from June 29 to Sept. 26, 2021.
One in 10 (10 per cent) of Canadians were experiencing recent thoughts or feelings of suicide, up from six per cent in the spring and 2.5 per cent throughout pre-pandemic 2016, according to a report released in December 2020.
Overall, 21 per cent of physicians were depressed, according to Medscape. And while 24 per cent of them were suffering from clinical depression, 64 per cent had colloquial depression, where they did not meet the threshold for a clinical diagnosis but experienced several symptoms like hopelessness, despair or thoughts of suicide.
"It is possible that a 'silver lining' of this terrible crisis is to normalize physicians receiving help for mental health issues," said Patrick Moss, a critical care physician at Children's Hospital of Los Angeles.
However, less than four in 10 doctors sought help from a therapist. This is true among 27 to 41-year-olds (35 per cent), 42- to 56-year-olds (36 per cent) and 57- to 75-year-olds (36 per cent).
Even fewer were those who sought help from a counselor on a suicide hotline. Just five per cent of Millennials, four per cent of Gen X respondents and three per cent of Boomers had actually done this, according to the report.
And close to four in 10 had also not told their suicidal thoughts to a friend or colleague, a therapist, a family member or a counselor on a suicide hotline: 34 per cent among Millennials, 38 per cent among Gen X and 44 per cent among Boomers.
"You wouldn't expect a physician to set their own broken leg or perform surgery on their own internal injury, and you can't fix your broken mind with your broken mind," said Andrea Giedinghaden, assistant professor in the Department of Psychiatry at Washington University in St. Louis School of Medicine. "You need someone else to help you, and allowing yourself the vulnerability of seeking help actually comes from a very deep strength."
More than half (53 per cent) of physicians and medical learners have now experienced high levels of burnout, according to a report from the Canadian Medical Association (CMA) released in March. Also, 75 per cent of Canadian nurses were classified as burnt out, based on the group's survey of 5,200 Canadian nurses, most of them from Ontario, conducted from May to July 2021.
Now, more than ever, robust well-being supports are needed for Canada's health-care providers, according to Andrea Lum, vice-dean of clinical faculty affairs, and Laura Foxcroft, assistant dean of faculty well-being at the Schulich School of Medicine & Dentistry.
"Against the backdrop of a global pandemic, we've gone through unprecedented social, political and racial reckonings, collectively began to reconcile the trauma of Canada's Residential School system, and experienced alarming climate events from coast to coast. That's on top of the emergencies and crises doctors combat in our local communities daily. Through all of this, physicians have continued to fight to improve the health – and mental health – of Canadians," they said.
"Now, it's time we heal the healers."