Group recommends changes to Ontario's health system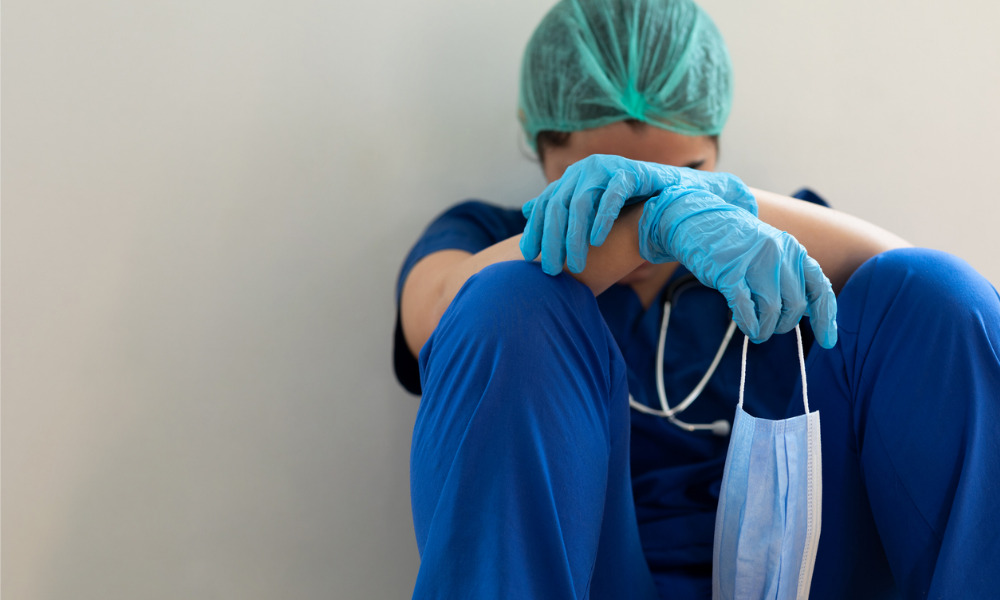 The Registered Nurses' Association of Ontario (RNAO) is calling on the government, employers, educators and associations to act urgently to address the deep crisis in nursing demands.
The groups points to the situation during the third wave of the COVID-19 pandemic in Ontario, when 75 per cent of Canadian nurses were classified as burnt out, based on the group's survey of 5,200 Canadian nurses, most of them from Ontario, conducted from May to July 2021.
Sixty-nine per cent of nurses said they planned to leave their position within five years. And, among those who indicated they wanted to leave their position, 42 per cent said they were planning to leave the profession altogether and seek opportunities elsewhere or retire.
"The numbers are both sobering and alarming and represent a call to action for the government, health employers, educators, and nursing associations," said Dr. Doris Grinspun,RNAO CEO.
A report released in November 2021 found that a whopping 84 per cent of the 1,304 workers surveyed the previous month felt burned out over the last two years. Another report found that more than seven in 10 (72.9 per cent) of Ontario physicians experienced some level of burnout in 2021.
Meanwhile, a recent report noted that 38 per cent of workers in Canada say that they are more burned out now than a year ago. In comparison, more than half (53 per cent) of physicians and medical learners have now experienced high levels of burnout, noted a report released in March.
In March, nearly 40 health-worker organizations called for the federal and provincial governments to step in to address Canada's ailing health systems.
Nurses' condition
Things are bad in the nursing profession, according to RNAO.
Nearly three-quarters (73 per cent) of nurses reported that their workloads increased moderately or significantly during the pandemic, and 60 per cent were moderately or extremely concerned about staffing levels.
More than half were moderately or extremely concerned about workloads (53 per cent) and skill mix (54 per cent).
Only 35 per cent of nurses said they had adequate support services to spend time with patients/clients
The results are even more stark when you consider that Ontario went into the pandemic with a shortfall of 22,000 registered nurses (RN) on a per-capita basis compared to the rest of Canada, according to RNAO.
Recommendations
RNAO shared the following recommendations to improve the situation:
Repeal Bill 124 – Ontario's wage restraint legislation – and refrain from extending or imposing any further wage restraint measures.
Immediately increase the RN workforce by expediting applications and finding pathways for 26,000 internationally educated nurses (IEN) living in Ontario that are eager to join the province's workforce.
Increase enrolments and funding for baccalaureate nursing programs, including second entry and compressed programs by 10 per cent for seven years and compress the RPN-to-BScN bridging program to two years.
Develop and fund a Return to Nursing Now program to attract RNs back to Ontario's nursing workforce.
Support nurses throughout their careers by expanding the Nursing Graduate Guarantee, reinstating the Late Career Nurse Initiative and bringing back retired RNs to serve as mentors to new graduates and IENs.
Establish a nursing task force to make recommendations on matters related to the retention and recruitment of RNs.
The staffing crisis the Ontario health system is not new, and RNAO repeated what it has been saying all along: "Without a detailed health human resources plan that is laser-focused on retaining nurses in the profession and building Ontario's RN workforce, people's health and the system's ability to operate effectively are in danger."
In August 2021, Union leaders from the Canadian Union of Public Employees (CUPE) Ontario, SEIU Healthcare and Unifor, along with a frontline healthcare worker demanded for an urgent and comprehensive strategy from the Ontario government to address what they describe as a worsening human health resources crisis in the province.