Though vaccine news has given hope, respecting COVID-19 guidelines is still as important as ever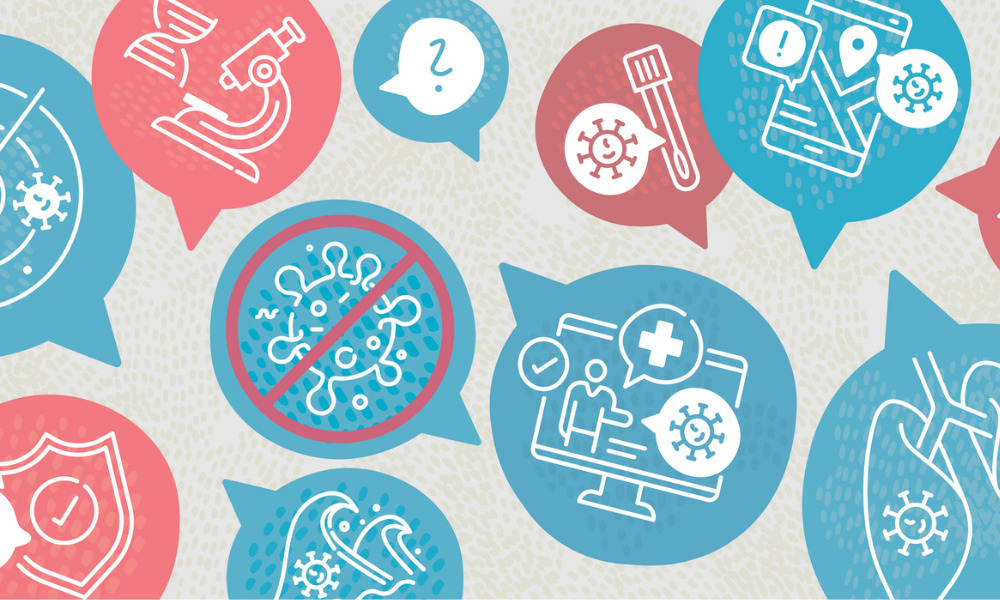 Canada is in the midst of its third wave, with Ontario particularly hit by a spike in COVID-19 cases.
This is due to myriad reasons, one of which may be the vaccine.
Indeed, though provinces have introduced more stringent measures, Canadians may have gotten a bit lax about respecting certain COVID-19 guidelines.
Though the vaccine campaign may seem like the light at the end of the tunnel, until further notice there is still a pandemic raging and we all need to remember to do our bit to prevent the spread of the virus.
This is also the case in professional settings. Though many may still be working from home, some have returned to work sites or offices.
The Ontario Ministry of Labour recently announced that it would be launching a targeted health and safety blitz and inspecting 1,300 construction sites from April 15.
"We've inspected these worksites regularly throughout the pandemic, but it is more important than ever, with these new variants spreading, that we continue to ensure that construction worksites are following the rules and that workers who still go to work every day are protected," said Monte McNaughton, Minister of Labour, Training and Skills Development.
Here is a reminder of what employers can do to keep their employees safe at work.
Create policies and procedures that will reduce social contact
Ensure that, when possible, workers are safely socially distanced. In certain settings, implement plexiglass separators between workers to keep them safe (this can be done in an office setting or in other similar workplaces).
Some companies have even created devices that will indicate whether workers are safely distanced from each other.
In addition, stagger breaks and arrival/leaving times to avoid crowding in communal areas such as break rooms, lobbies or communal kitchens. It may be hard to enforce, but reducing social contact is crucial.
This is also something to keep in mind when welcoming outside visitors or inspectors on site or in any other workplace setting.
If employers are worried about the negative mental health effects of social isolation, they can start various virtual events such as book clubs, lunches, yoga sessions, etc. to safely keep workers in contact with each other.
Clean and disinfect the work areas
Routinely cleaning and disinfecting work areas, or areas of high touch is still one of the best ways to ensure optimal hygiene in a workplace. In addition, provide disinfecting wipes or hand sanitizer to employees so that they can clean their own personal surfaces (desks, keyboards, phones, etc.). Lastly, encourage employees to wash their hands regularly with soap and water and make sure that these supplies are plenty so as not to be caught short.
Following basic hygiene measures are key in the fight against COVID-19.
Provide employees any personal protective equipment they can use
In addition to the cleaning supplies mentioned above, employers should provide adequate PPE to all workers who need it. As a reminder, mask wearing is still mandated in most indoor settings (and even if not mandated, should still be enforced when possible to reduce the risk of spreading the virus).
Different workers may require different types of masks. Here is the best face mask for every job, and here is a list of Canadian brands making face masks to support. N95 respirators and surgical masks are still largely reserved for frontline workers, notably healthcare workers.
On top of face masks, other bits of personal protective equipment may be necessary such as face shields, eye protection or gloves.
Temperature screening at work sites or offices may also be a good way to keep track of employee health.
Make sure your employees know what to do once they have symptoms
Ensure that you communicate COVID-19 symptoms with employees and keep in touch so as to monitor for any potential symptoms. Encourage employees to self-monitor for symptoms as well. There are a number of online resources and apps which can be used to track symptoms.
Workers who are sick should be required to stay at home and seek advice from public health agencies.
Further, it may be advantageous for businesses and organizations to update healthcare plans or sick leave policy to accommodate workers who will need to stay at home while self-isolating and recovering from the virus.
With vaccines becoming more and more available, now is also a good time to mull over a vaccine policy to implement when possible.
Implement contact tracing
Contact tracing is key to limiting the spread of COVID-19 and preventing outbreaks or clusters on site or in the workplace that could then potentially spread to family or friends.
Tracing can entail important privacy concerns and employers need to make that they are not violating any privacy laws.