Legal expert analyses four key issues around workplace vaccines, including the thorny subjects of mandatory shots and human rights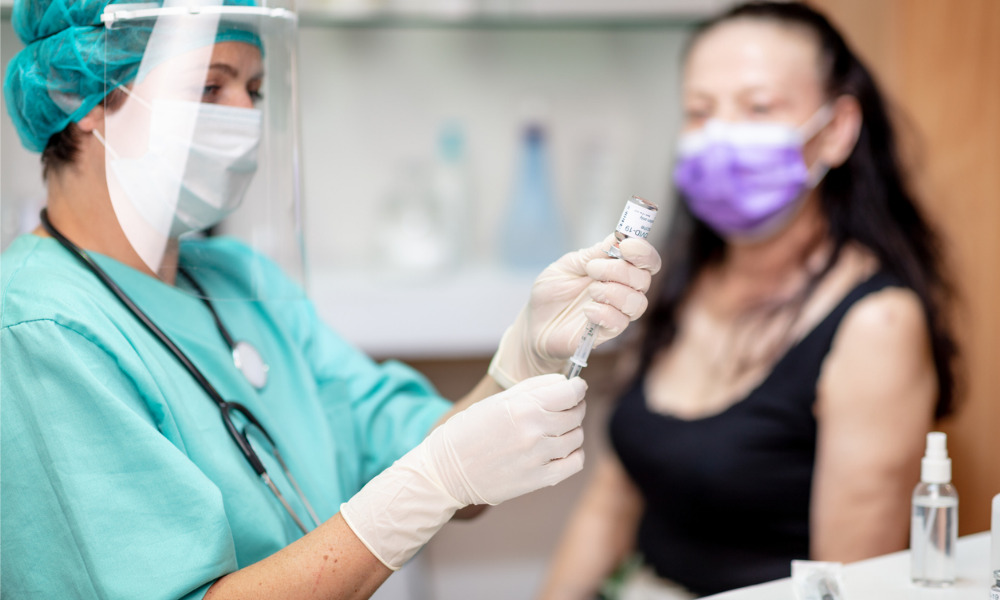 It can be hard to figure out what the best way forward is with so much information streaming in every day.
"As time rolls forward, we have a different view than we even would have had two months ago and we have to keep re-calibrating regularly," says Loretta Bouwmeester, partner, Mathews Dinsdale & Clark LLP.
From a legal perspective, there is no universal legal answer – and planning is also entirely reliant on vaccine supply.
"I think that what is going to change the game is that right now we're encouraging employers to educate their team, provide information that is clear and look towards advocates that are reliable," says Bouwmeester.
Voluntary vaccine policy – Important for all employers to consider now
Bouwmeester says that the best way forward right now for many employers is to consider implementing a voluntary vaccine policy and start tracking (in a privacy compliant way) what percentage of the workforce is voluntarily receiving the vaccine. If there is a high uptake, a mandatory policy may well not be necessary. Especially if the work done by that employer's team is not public facing or riskier from another perspective.
Hotspots such as congregate living in a work camp setting or congregate work in a food processing or distribution centre should be areas of first priority.
For example, says Bouwmeester, in Alberta the government is implementing targeted vaccine programs at certain worksites like meat processing facilities.
The key to a good voluntary vaccine policy is communicating it effectively with employees, and sharing information that is reliable and clear to build trust with workers and combat vaccine hesitancy based on mis-information together.
Paid and job protected vaccination leave
Another hot topic is paid and job-protected vaccination leave, specifically sick leave for employees wishing to get vaccinated, and this changes on a province to province basis, and even from one organization to another.
In Alberta, since April 21st, Alberta employers must give employees job-protected leave to receive COVID-19 vaccinations without any loss of pay or benefits. Protected paid leave for employees was also introduced in B.C. on April 27th.
Providing this benefit event where there is not a legislative requirement to do so can be a great way to incentivize employees to get the vaccine. As is offering more than the minimum amount where it is legislated. Identifying and working to remove barriers to employees being vaccinated can be in an employer's best interests.
Mandatory vaccinations
Currently, employers cannot necessarily force employees to get a vaccine.
This is a thorny topic that balances workplace policies, human rights requirements and privacy considerations.
And there is a difference between employees who can't take the vaccine due to health or religious reasons versus employees who won't take the vaccine.
This is something that employers will need to consider very carefully. For critical sectors such as healthcare, mandating a vaccine may be the way forward.
Furthermore, business viability is also important as a consideration for employee well-being.
If the lack of a vaccine, or low vaccination numbers, impede on construction or infrastructure projects getting done for example, this may be something that employers want to consider.
Whether an employer can mandate a vaccine is also dependent on the current climate. For example, COVID-19 variants currently circulating around Canada may change things over the next few months.
"The prevalence of variants, and then the seriousness of the variants in terms of transmissibility […] that would be a game changer," says Bouwmeester.
Building trust – Morale and a Balanced Approach Matter
You have to do an individualized analysis, and approach the topic from a balanced perspective, says Bouwmeester.
"If you're a company that decides to go with a mandatory policy, you have to be able to provide a rationale to your team," she says, and be able to demonstrate that it is privacy compliant, human rights compliant, and that it was done thoughtfully and carefully with a view of balancing potentially competing interests.
The other thing that is really important as a takeaway for a mandatory policy is that you have to continuously re-evaluate that policy: "The mandatory vaccination policy should really be only in place for as long as absolutely necessary because it is invasive," says Bouwmeester.
It boils down to trust, she says. When you breach privacy, you undermine morale and you break down trust – that is dangerous in and of itself.
"Morale and trust are so integral to a well-functioning, sustainable workplace," says Bouwmeester, "this is going to matter in the long term."