Experts weigh in on what to consider when contemplating business and leisure travel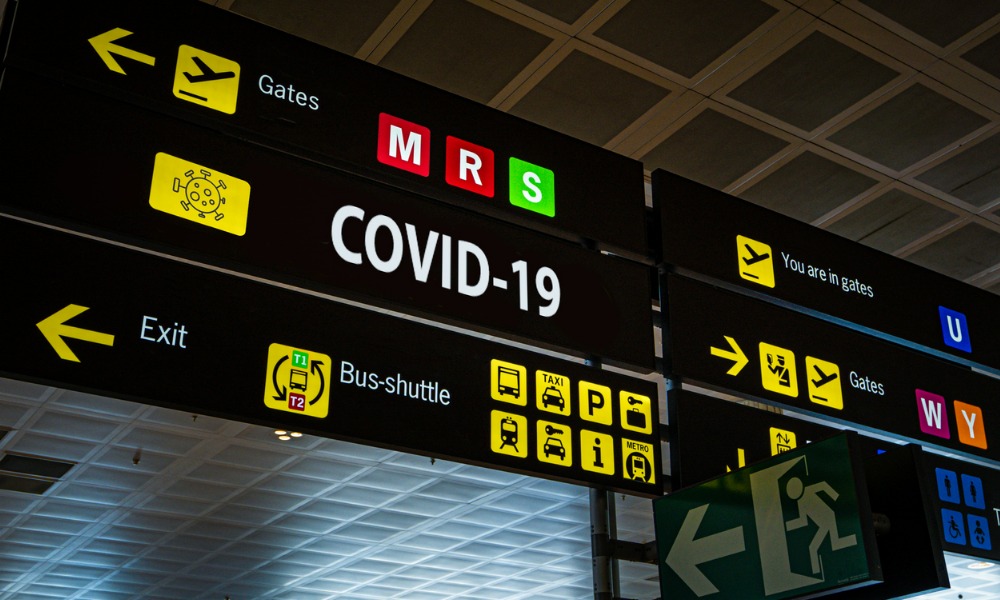 The surge of the new Omicron variant has impacted both business travel and leisure travel, leaving travellers uncertain about holiday plans and business travel in the new year.
"If you can avoid any travel for work-related business, that's what we would advise at this time – especially with Omicron being highly transmissible," says Catherine Bergeron, Health and Safety Team Lead, Peninsula Canada.
"Initially, this holiday was forecasted to be one of the busiest travel seasons since the Coronavirus pandemic started. Many Canadians may have booked trips, looking forward to seeing friends, family and loved ones, or jaunting off for a short break over the holidays," says Carl Demarco, CEO and Chairman, Citizen Care Health and Solutions Corp.
"We've been seeing fluctuating travel rules and restrictions, as well as changes in terms of testing and quarantine rules, throughout the pandemic. But the new variant, like variants before it, has made travelling that much more difficult," he says.
"The nature of the virus has had unprecedented consequences on businesses, but the longer we're in it, the more prepared we are to respond and offer solutions that help businesses resume operations – even if not fully," says Demarco.
In addition to challenges with navigating, sourcing and booking appropriate testing requirements, travellers need to keep up with ever-changing government regulations and follow strict prevention guidelines to stay safe.
While Canadians should look to government guidelines if they have an upcoming trip booked, if they were to cross borders in the near future.
"I would advise them to thoroughly do their research, be prepared for possible delays and hiccups, and arm themselves with the right tools that can help them re-book flights or rental cars, or source and book appropriate testing, if they do face a delay or other type of travel disruption," says Demarco.
"If traveling is not avoidable in your field of work, ensure to have clear measures and guidelines for your workers that are traveling and give them all the information possible for them to travel safely," says Bergeron.
She says it's about equipping workers with the right information needed, and procedures to follow. "For example, if your workers are travelling to go visit clients, what would be the expectations for them? When they get to the clients, they should wash their hands on arrival, they shouldn't shake hands, they should use their if possible as opposed to public transit," says Bergeron.
Tech solutions
COVID-19 has changed the way we travel, says Demarco, and Canadians may want to invest in tech solutions to help ease travel plans.
"As indicated by recent announcements, advisories can change from day to day – so it is vitally important that travellers track their border crossing and testing requirements," he says. "The pandemic somehow sped up our transition into a new fully digital/virtual era. People are trying to catch-up with the changes, and I think in hindsight, we will be amazed at how quickly we adopted and adapted to this new way of doing things."
"Technologies like contact tracing wearables or mobile applications can track if anyone is content with a COVID-19 positive individual and inform them so that they can take the necessary measures to prevent the spread by getting testing and quarantining," says Demarco.
Demarco says that he anticipates vaccination records and health status checks to be a regular occurrence, at least in the foreseeable future.
Says Demarco: "Unfortunately, if there's one thing about this virus that we can predict, it's that it is unpredictable. We simply don't know what comes next.
We believe this is an important opportunity to help support both the health and wellness of travelers going forward, while also an opportunity for industry professionals — from construction sites, to retailers, restaurants, and even those in the travel industry — including cruise ship directors to travel agents to airline executives and hoteliers — to help keep people safer during their journeys."
Holiday safety
And aside from travel, how can workers stay safe during the holiday season?
Rapid antigen tests – which are currently being distributing in a number of provinces – are probably one of the best ways to make sure that you're not transmitting COVID, says Bergeron.
"As a business, you can order testing kits and the government is going to be distributing them to the public as well. Having a rapid testing policy in place is very important, especially during the holidays when people are going to see family," says Bergeron. "When they come back into the workplace it would be a good idea to have everyone tested prior to their first shift."
With Seasonal Affective Disorder (SAD) starting to affecting workers, Bergeron also says that it is important for employers to remind employees about any mental health assistance they can access.
During the holiday season, employers may also be hosting holiday parties – though there may not be many this year due to Omicron surge.
"It's always important to have measures in place if you're throwing a Christmas or holiday part with your staff, such as making sure that no one is drinking and driving," says Bergeron.
Providing taxis or other lift services after the party is a good way to prevent this.
"You can also have a stand where people can pass their alcohol level before leaving if they are driving, just so they know that it's safe," she says.
And there are all the winter hazards that are coming such as snow, so Bergeron says to ensure that someone is taking care of the company parking lot for example (salting and plowing), and making sure that there is a carpet at the entrance to make sure that there are no slips and falls or accidents.