New York vaccine mandate kicks in, but some healthcare staff continue to resist jabs despite risk of termination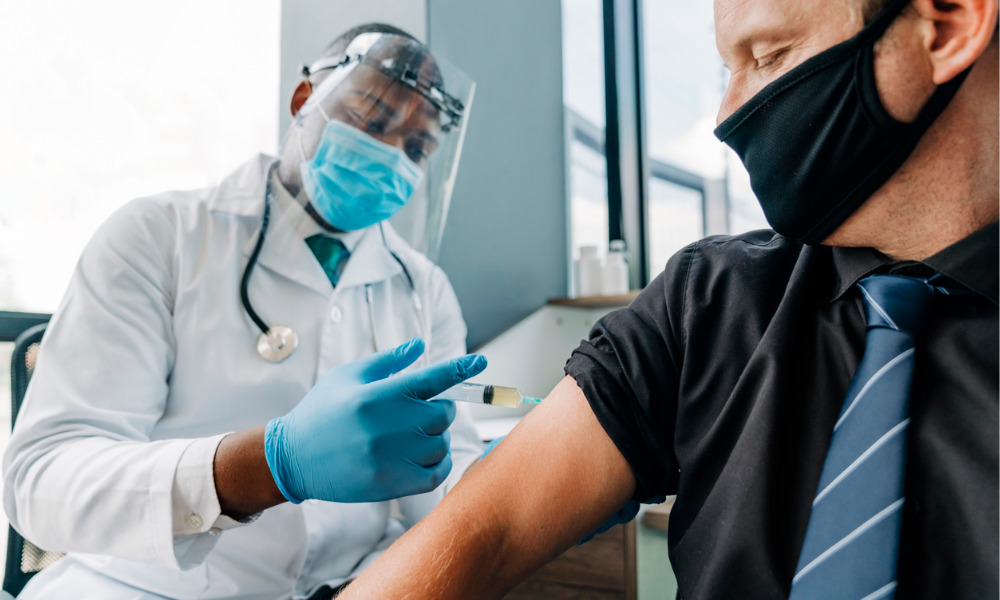 New York state's COVID-19 vaccine mandate for healthcare workers took effect on Monday, September 27, but there are still some frontliners opting not to receive the jabs.
As of September 22, 84 per cent of all hospital employees in New York State were fully vaccinated, according to the New York government. As of September 23, 81 per cent of staff at all adult care facilities and 77 per cent of all staff at nursing home facilities in New York State were fully vaccinated.
Among those who do not want to receive the vaccine are Deborah Conrad, a physician assistant in western New York, and Simmone Leslie, a hospital switchboard operator in Queens, according to a report from The New York Times. For this, they may be risking their employment.
Leslie said her employer rejected her request for a medical exemption. Meanwhile, Conrad referenced vaccine side effects she claimed to have seen but have not been supported by scientific consensus.
"We were all traumatized, vaccinated and unvaccinated," said Conrad. "It's very hard that the same people who elevated me to this level now look at me as a dangerous person."
Another woman, who has been a nurse for more than 20 years, says she was terminated from her job at Mather Hospital. Her last day at South Shore Surgery Center was September 27, Eyewitness News reported.
"For us, it's not just about vaccines, it's about human rights as well, for the people that wanted to take the vaccine and these people I think should have taken the vaccine," she said, according to the report. "I'm not against the vaccine. I'm also against human rights [violations], and you have the right to choose to take it, and I should have the right to choose not to if I feel like it's not good for me."
Last month, then New York Governor Andrew Cuomo announced that all healthcare workers in New York State, including staff at hospitals and long-term care facilities (LTCF), including nursing homes, adult care, and other congregate care settings, will be required to be vaccinated against COVID-19 by Sept. 27.
Also, the Department of Labor has issued guidance that workers who are terminated because of refusal to be vaccinated against COVID-19 are not eligible for unemployment insurance if they cannot provide "a valid doctor-approved request for medical accommodation".
Read More: CNN fired three employees for going to the office despite being unvaccinated
Connecticut and San Francisco are also among the states that have announced COVID-19 vaccination policies. Members of the military have also been required to get the COVID-19 vaccine. Meanwhile, Illinois previously announced it is providing incentives for vaccinated frontline state employees.
Staffing shortages
On Sunday, N.Y. governor Kathy Hochul released a comprehensive plan to address possible staffing shortages in hospitals and other healthcare facilities statewide due to the requirement.
"We are still in a battle against COVID to protect our loved ones, and we need to fight with every tool at our disposal," Hochul said. "I am monitoring the staffing situation closely, and we have a plan to increase our health care workforce and help alleviate the burdens on our hospitals and other health care facilities. I commend all of the health care workers who have stepped up to get themselves vaccinated, and I urge all remaining health care workers who are unvaccinated to do so now so they can continue providing care."
The plan includes preparing to sign an executive order if necessary to declare a state of emergency that seeks to increase workforce supply and allow qualified health care professionals licensed in other states or countries, recent graduates, retired and formerly practicing health care professionals to practice in New York State.
Other options include deployment of medically-trained National Guard members, and partnering with the federal government to deploy Disaster Medical Assistance Teams (DMATs) to assist local health and medical systems. Hochul also plans to work with the federal government and other state leaders to explore ways to expedite visa requests for medical professionals.