'The investments announced today are helping many local businesses adapt their operations to help protect the health and safety of their employees'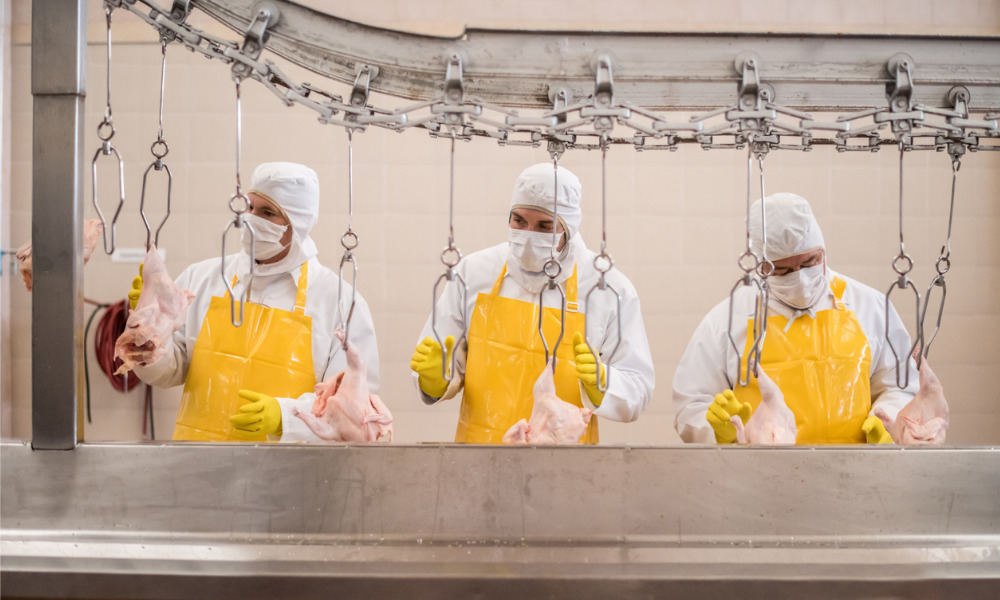 The federal government is investing up to $7.8 million through the Emergency Processing Fund for the safety of workers at 24 meat processing companies across the Prairies.
"The COVID-19 pandemic has brought on many challenges for the food processing industry, in particular for meat processing plants of all sizes. The hard-working women and men in this industry continue to step up to ensure Canadians have high-quality food on their plates," said Marie-Claude Bibeau, minister of agriculture and agri-food. "Through the Emergency Processing Fund, we are giving businesses the support they need to keep their employees safe and our food systems running strong."
Recipients can use the funding to make adjustments to enable social distancing, purchase reusable personal protective equipment (PPE), install protective barriers, improve sanitation and develop training for employees.
The $77.5 million Emergency Processing Fund is helping food processors implement measures to protect the health and safety of workers and their families in response to the COVID-19 pandemic, with an emphasis on supporting meat processing facilities in Canada. It also supports facility upgrades to help strengthen Canada's food supply.
Recently, Canadian company Vitacore Industries launched what they say is Canada's first end-to-end single-use mask and recycling program.
In January, Manitoba signed a partnership that allow health-care workers delivering care in settings that pose an increased risk of exposure to COVID-19 to select the most appropriate personal protective equipment (PPE) they require.
Feedback
Winkler Meats Ltd., a federally inspected abattoir and processing plant in Manitoba, is receiving up to $1,447,693 from the funding. Meanwhile, Viva Deli, a meat processing and retail operation in Alberta, is receiving up to $70,184.
"We applaud the Minister of Agriculture and Agri-Food's efforts and support for the meat processing industry. The funding will help us continue, to keep our employees safe with increased social distancing and make our plant resilient in supplying Valley Lea Farms Fresh Pork and Winkler's line of Sausage products to Canadians," said Dickson Gould, president, Winkler Meats Ltd.
"We are very grateful for support from Agriculture and Agri-Food Canada during this pandemic," said Inessa and Vitali Kojlo, owners, Viva Deli. "As we are a new food manufacturing company, the funding has helped us to accommodate all the regulations that were put in place during COVID-19. We were able to keep operating our facility, keep a safe environment for our staff by separating our employees, improving our air quality and being compliant with local/provincial regulations."
Across the Prairies, the meat processing industry accounts for 19,000 jobs and $12 billion in sales, nearly half of total food processing jobs and sales on the Prairies, according to the federal government.
"Our Prairie meat businesses have shown incredible resilience throughout this time of crisis," said Jim Carr, special representative for the Prairies. "The investments announced today are helping many local businesses adapt their operations to help protect the health and safety of their employees which will allow them to continue supplying good food for Canadians."
Other measures introduced by the federal government to keep Canada's agri-workforce strong include:
almost $85 million in funding for the Mandatory Isolation Support Program for Temporary Foreign Workers to assist Canadian employers with some of the incremental costs associated with the mandatory 14-day isolation period.
a $35-million Emergency On-Farm Support Fund to boost protections for domestic and temporary foreign workers and address COVID-19 outbreaks on farms, which have benefit workers in Ontario, British Columbia and Prince Edward Island, among others.