Requirement to take effect Sept. 22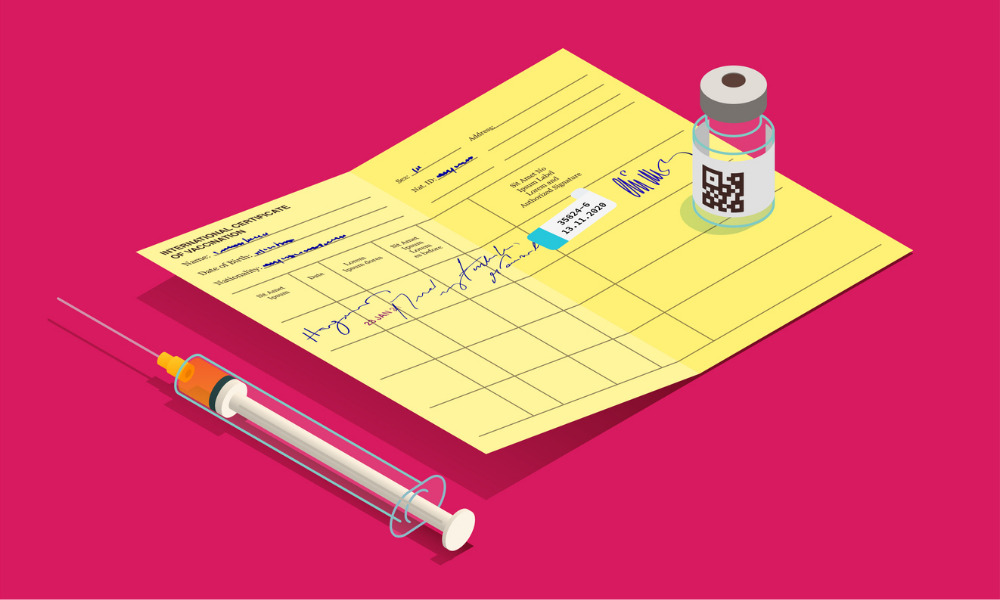 Ontario will be requiring people to be vaccinated to be fully vaccinated and provide proof of their vaccination status to access certain businesses and settings.
"As the world continues its fight against the Delta variant, our government will never waver in our commitment to do what's necessary to keep people safe, protect our hospitals and minimize disruptions to businesses," said Premier Doug Ford. "Based on the latest evidence and best advice, COVID-19 vaccine certificates give us the best chance to slow the spread of this virus while helping us to avoid further lockdowns. If you haven't received your first or second dose of the COVID-19 vaccine, please do so today."
Starting Sept. 22, people must be fully vaccinated (two doses plus 14 days after the second dose) to enter the following:
restaurants and bars (excluding outdoor patios, as well as delivery and takeout);
nightclubs (including outdoor areas of the establishment);
meeting and event spaces, such as banquet halls and conference/convention centres;
facilities used for sports and fitness activities and personal fitness training, such as gyms, fitness and recreational facilities with the exception of youth recreational sport;
sporting events;
casinos, bingo halls and gaming establishments;
concerts, music festivals, theatres and cinemas;
strip clubs, bathhouses and sex clubs;
racing venues (e.g., horse racing).
These mandatory requirements would not apply to outdoor settings where the risk of transmission is lower, including patios, with the exception of outdoor nightclub spaces given the risk associated with the setting, according to the government.
The policy would also not be applicable to settings where people receive medical care, food from grocery stores, medical supplies and the like.
Individuals who cannot receive the vaccine due to medical exemptions will be permitted entry with a doctor's note until recognized medical exemptions can be integrated as part of a digital vaccine certificate.
Meanwhile, indoor masking policies will remain in place.
Previously, business groups in Ontario called on the provincial government to create a vaccine passport or certificate program that would allow restaurants, gyms, cinemas, theatres, sport and concert venues and other non-essential operations to offer entry only to people who have been fully vaccinated or have a recent negative test result for COVID-19. This was after Quebec announced it will be introducing a COVID-19 passport at the start of this month.
British Columbia has also earlier announced they would also be requiring proof of full COVID vaccination for people to be allowed in certain establishments.
Feedback
The Ontario government received positive feedback from stakeholders for the announcement.
"Ontario's new COVID-19 vaccine certificate system is a step in the right direction," said Naureen Rizvi, Unifor Ontario regional director. "After almost a year and a half of cancelled concerts, cancelled sporting events and restricted air travel, Ontario's COVID-19 vaccine certificate system will help reduce the spread of the virus and allow workers and patrons a safe space to access services that were closed or restricted due to the pandemic."
"As we have said on numerous occasions, nurses and health-care workers are exhausted. They have been battling the pandemic since March 2020 and there is no end in sight," said Dr. Doris Grinspun, CEO, Registered Nurses' Association of Ontario (RNAO). "The vaccine certificate system announced today by Premier Ford is needed to encourage those who have yet to protect themselves fully and those they come in contact with. It will also add a layer of protection to customers and allow businesses to operate safely. All of this is necessary to transition out of the pandemic. And for this, we thank the premier for changing course."
Several employers, including Toronto Hydro, Porter Airlines and Air Canada, have also announced plans to require workers to be fully vaccinated against COVID-19.