This pandemic has disproportionately affected women, according to a new report by Statistics Canada, prompting talk of a 'shecession'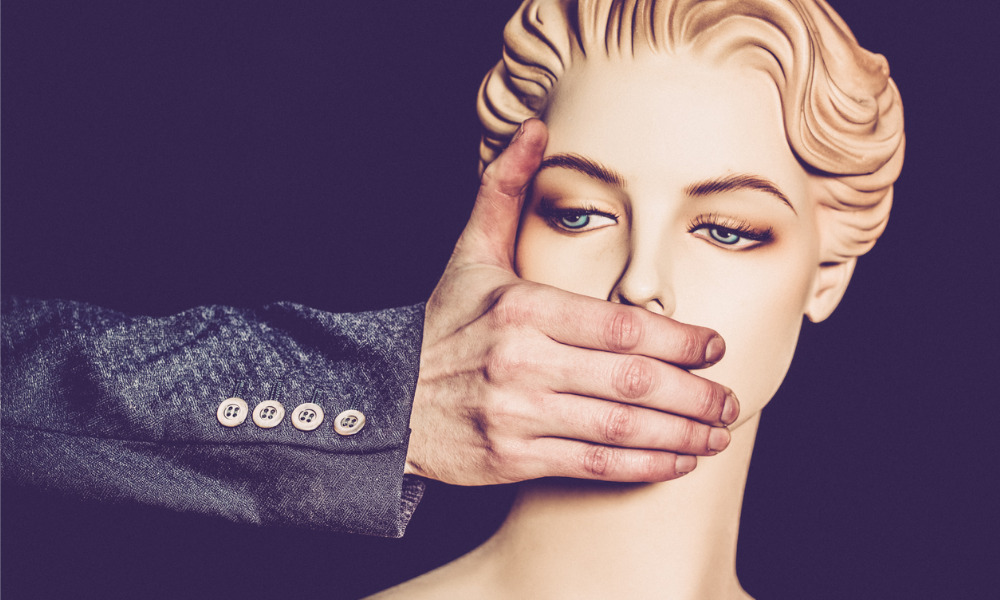 A new report by Statistics Canada has revealed that job losses due to the pandemic have been more severe for women than for men.
The report, which details stats from March 2020 to Feb 2021, shows that women accounted for 53.7 per cent of year-over-year employment losses.
This is just another in a series of reports which highlight how devastating the pandemic has been for women and the advancement of gender equality (and equity) in the workplace.
During WWII for example, massive amounts of women entered the workforce to contribute to the war efforts while men had been sent to fight at the frontlines.
These gains were short-lived however, as post-war social norms largely forced women back into the domestic sphere where they were expected to perform the traditional role of mother and wife.
Interestingly, recession periods in the 1970s disproportionately affected men due to the fact that heavy industries such as construction and manufacturing were harder hit – and these are sectors in which male workers are heavily represented.
Financial crises have always affected women in some way.
"Historically, economic recessions have placed a disproportionate burden on women. Women are more likely than men to be in vulnerable jobs, to be under-employed or without a job, to lack social protection, and to have limited access to and control over economic and financial resources," said Sha Zukang, then Under-Secretary-General for Economic and Social Affairs, during the financial crisis in 2009.
READ MORE: Five ways to improve female leadership
Female leadership
Though government rules and regulations may have some effect, the onus is mainly on businesses and organizations to improve their workplace culture to make them safe and inclusive for women, as well as provide equal opportunities when it comes to pay and promotions.
And while women are more and more present in the workplace, they are frequently absent in leadership and managerial roles.
Osler's 2020 report on diversity and leadership at Canadian public companies, for example, says that women only hold 21.5 per cent of all board seats among all companies listed on the Toronto Stock Exchange (TSX).
A Symposium on Women and the Workplace held at the University of Toronto's Rotman School of Management in May 2019 revealed that women remain under-represented in STEM (23 per cent), entrepreneurs (29 per cent) and political leaders (29 per cent).
One of the workshops also revealed that women are 30 per cent less likely than men to be promoted to manager from an entry-level position and a whopping 60 per cent less likely to be promoted from manager to senior executive. And it is important to note that the gap widens for racialized women.
READ MORE: Women in Safety: A force for change
Amazon
Indeed, being a woman in the workplace is tough – but it is especially tough for racialized women.
Last week, it was reported that five female Amazon employees in the US had filed discrimination suits against the online retail giant.
USA Today reports that the women, ranging in age from 23 to 64, separately filed suits. Each allege that they faced retaliation by white managers after complaining about sexual harassment and discrimination that they say they faced.
The women all work in different roles in corporate positions or warehouse management.
And this is not the first suit that Amazon is facing in this regard this year. In March, Charlotte Newman, a senior-level manager at the company, sued Amazon and two executives over alleged pay inequity and race and gender discrimination.
The women are represented by law firm Wigdor LLP. Theirs lawyers, Lawrence M. Pearson and Jeanne M. Christensen, said to Recode in a statement last week:
"Women and employees of color at all levels of Amazon have had their complaints of harassment and discrimination brushed under the rug […] These are systemic problems, entrenched deep within the company and perpetuated by a human resources organization that treats employees who raise concerns as a problem."
READ MORE: CCOHS scholarship supports women in safety
Equity can't wait
There are, thankfully, a number of businesses and organizations out there working to advance gender equity and inclusion in the workplace.
In March this year, Catalyst held its annual Catalyst Awards Program and Celebration.
Catalyst in a non-profit founded in 1962 which works with leading businesses and organizations to build workplaces that work for women.
This year the theme of the awards was "Progress Won't Pause—Equity Can't Wait," and Catalyst honoured Barilla and the Royal Bank of Canada (RBC) for their efforts to accelerate progress and inclusion in the workplace.
In the safety sector, groups are tackling female representation in industries such as chemicals or steelwork.
In September last year, tech company Alcumus (formerly eCompliance) hosted a webinar with the Women in Occupational Health and Safety Society (WOHSS) on how to create and reinforce safety culture.
Alcumus is very focused on building an inclusive and supportive workplace for women. Said Jennifer Lennox, VP of People Success, Alcumus – North America, to COS:
"We are proud to be an inclusive workplace; we have 50 per cent females working right through from the front line into the senior leadership team. However, we can do so much more as we continue to inspire and build strong, confident females in the workplace.
We work with our leaders to ensure we offer all the training, development, and awareness possible to scale through North America with D, E & I at the core of all we do. It's crucial to provide the experience and opportunities needed to empower your team, recruit talent, and build a working environment reflecting a completely inclusive team where everyone can inevitably achieve great things."