Health Canada approves new vaccine targeting variant as Ontario also softens safety requirements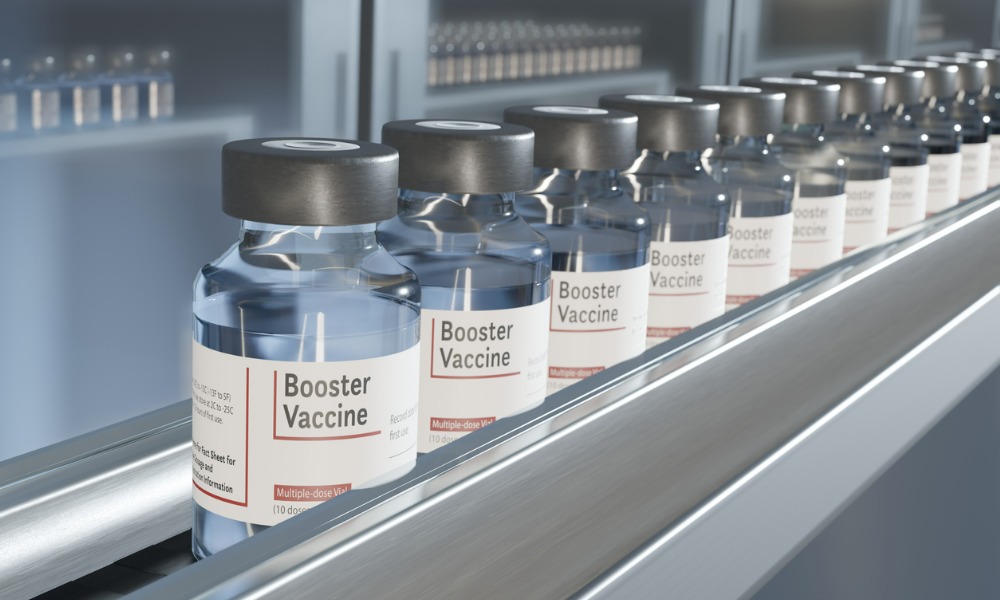 Health Canada has officially approved Moderna's updated COVID-19 vaccine targeting the Omicron variant.
The development regarding the Spikevax Bivalent – which contains both original SARS-CoV2 mRNA vaccine Spikevax and Omicron BA.1 – was announced in a decision summary made public on Thursday.
"Results of exploratory analyses suggest that a second booster with Spikevax Bivalent would provide a superior neutralizing antibody response against BA.4/5 compared to a second booster with Spikevax Original," reads a portion of the decision.
The booster shot has also been certified as safe, said Health Canada.
Pfizer has also applied for Health Canada approval of its own updated vaccine against Omicron, but no decision has been made to date.
Numerous government bodies and private employers previously required COVID-19 vaccination for their workers.
In March, Rebecca Kalison, HR Consultancy Team Lead, Peninsula, told COS that employers can still impose vaccination on their workers.
"As long as the employer wants to do that, they can continue to have those policies in place… The catch would be that the organization essentially has to have a good business reason to implement something mandatory like that."
Easing guidelines
The new development came just a day after Ontario announced new and softer safety guidelines for those who test positive for the coronavirus.
Under the new rules, workers in the province who test positive for the virus are no longer required to isolate for five days, reported The Canadian Press, except for those in high-risk workplaces such as long-term care homes.
Instead, people should stay home until their fever clears and their symptoms have improved for at least 24 hours.
"We're trying to be practical and pragmatic in our approach and these recommendations may change if we see more impact of respiratory viruses on the health of Ontarians and our communities," said Dr. Kieran Moore, the province's chief medical officer of health, in the report.
Those who have COVID-19 should also wear a mask "in any setting" for 10 full days, even if they feel better, and refrain from going into high-risk settings, such as long-term care homes, during that time.
The latest guidelines apply to other illnesses as the province is moving away from COVID-19-specific guidance in favour of an "all-virus approach," said Moore.
"This approach should decrease the risk of all respiratory viruses in our communities."
In April, WorkSafeBC released a communicable disease prevention guide as they shifted their focus from COVID-19 safety precautions to communicable disease prevention. Canadian provinces started easing COVID-19 safety measures earlier this year. And some employers have already dropped their vaccine requirement.
However, Moore said the province can expect to see more COVID-19 cases, and other seasonal respiratory viruses, in the fall as people spend more time indoors.